Last year the Samsung Galaxy Gear was the first of few (Qualcomm Toq, for instance) to breath life into the long-awaited Jetson's-inspired smartwatch.  Whether it was accepting phone calls, tracking footsteps, or taking spy pictures, the Gear could do it all directly from your wrist. But there was a problem. The Galaxy Gear was an eyesore. It was big, clunky, uncomfortable to wear, and the UI was absolutely terrible. Even with an aluminum polish, Samsung's product simply lacked the utility as a watch and came out of production completely half-baked. But come summer 2014, more contenders have arrived, and Motorola's Moto 360 is the front runner.
The Revolution of Android Wear
The Moto 360 is the first of several watches to feature Google's new Android Wear, a UI built specifically for smartwatches.  This Android-based software is built on the famed Google Now, arguably the best personal assistant app in existence. This has and will revolutionize the game for all smartwatches in the future, because it actually brings purpose and utility to owning a  smartphone-connected wrist watch. For the official Motorola Google I/O demo of Android Wear on the Moto 360, check below:
With Android Wear, no more will Android lovers have to rip a phone out of their pocket to check the weather, calendar, or accept phone calls. No more will we have to settle an argument with Google by racing fast fingers (Yes, you can talk to the 360). Simple and consistent swiping features and the ability to sync your favorite apps make Moto 360 more palatable than first iterations of smartwatches. And better yet, developers are lining up to build for it already. If you consider Google's majority market share on tablet and smartphone device software, the inclusion of Android Wear on nearly every new smartwatch device is a no brainer. Notably, the Samsung Gear Live and LG G Watch (already available at Best Buy) are the first of many to run it.
It Functions as a Watch
But more importantly, Moto 360 also functions as an actual watch. It's round, made of stainless steel, and is nowhere near as large or clunky as any of the Galaxy Gear devices. Better yet, it can be fitted with a plethora of watchbands to fit your unique style. Yes, even leather. The Moto 360 also comes with a plethora of custom watchfaces built by developers. In fact, Google held a contest for Android Wear and just announced its winner below. Elegant, right?  But best of all is the ability of the Moto 360 to stay on at all times, albeit dimmed. A simple touch can brighten the display to show you the hour, but in essence, it's always showing you the time, like an actual time-telling device.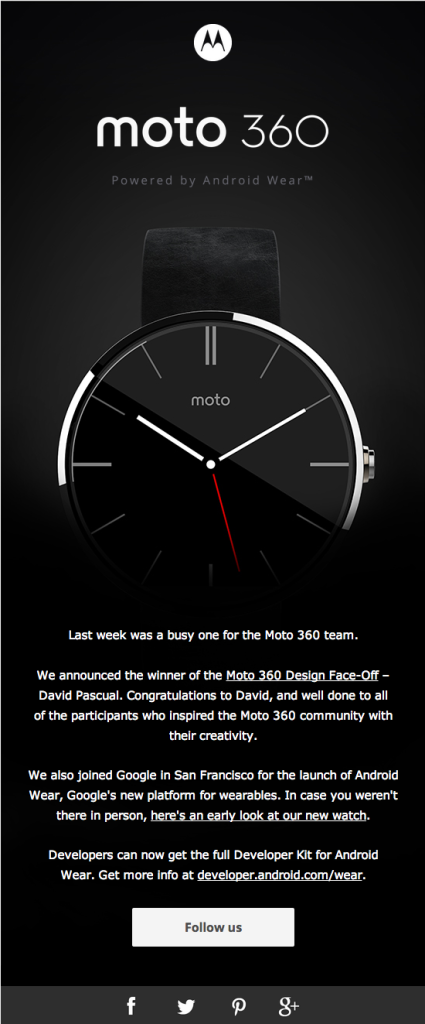 It's Affordable
Rumors say the Moto 360 is only going to run you $279 directly from Motorola's customizable MotoMaker website this August. Okay, it's not as cheap as the $229 LG G Watch, but for a nice watch that can be customized to your heart's content, who isn't intrigued? These dates and prices are still unconfirmed, but pending any notice of Apple's iWatch, I'm already getting my Google Wallet ready to buy this awesome device. More from Motorola on the Moto 360 design can be seen below: