Summer is here, and that means—VACATION TIME! Whether you're taking that bucket list trip to Fiji or need to find a hotel for that pesky summer wedding, here's a list of travel websites you've never heard of with interesting and unique features that will help you plan your trip mo' betta.
1. Momondo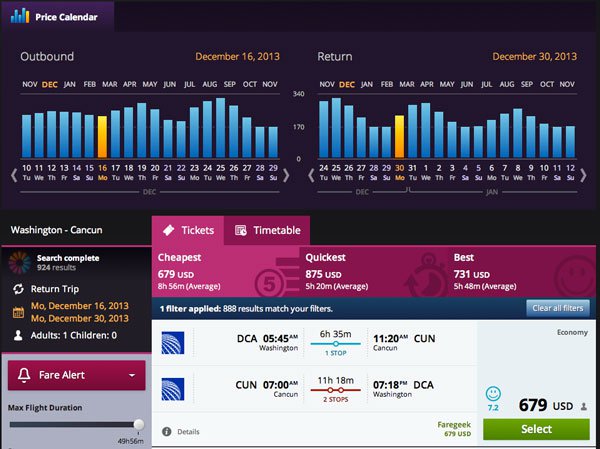 I LOVE Momondo. It has a sleek interface and has some serious analytical power. Not only will it tell you what flights are cheapest for your selected dates, it will show you a price calendar that tells you what the average price for flights is on surrounding dates. So, if your dates are flexible, you can easily see which dates you should be flying on. Results can be sorted using the tabs "Cheapest" "Quickest" and "Best," best being the combined shortest and cheapest flight. Click on "flight insight" next to "Price Calendar" at the top by your flight results. Here Momondo gives an overview of the cheapest airline, cheapest time of the year to fly, how many days/weeks ahead you should book to get the cheapest price, cheapest time of day and the cheapest airport. Enough price data for you?
For penny-pinching travelers (and most of us are), this website is a godsend. No longer do you have to rely on friends or TripAdvisor forums to tell you "Oh, it's pretty cheap to fly to Europe in the fall." Now you know for sure! Nothing makes a girl's heart patter quite like like a plethora of travel graphs.
2. Routehappy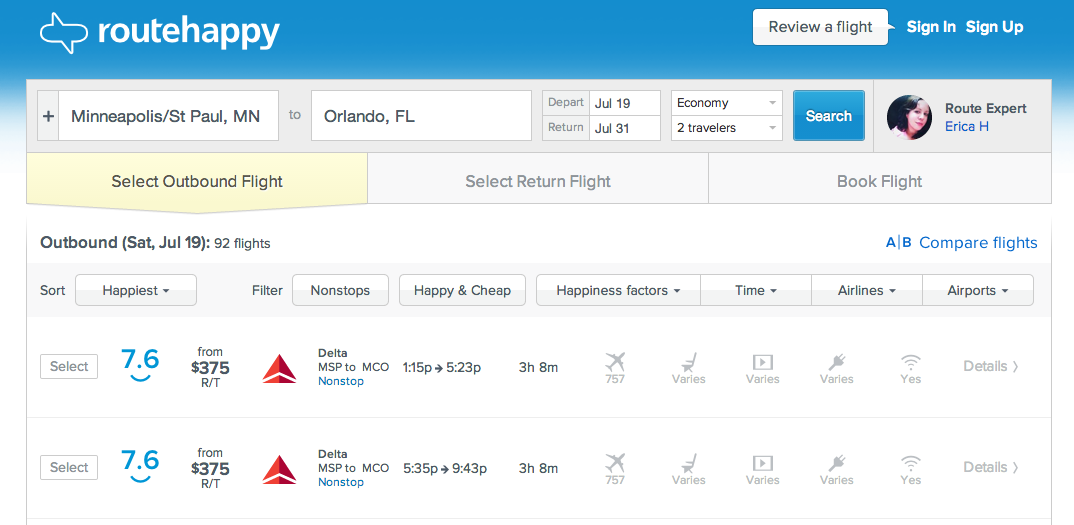 As many tall people know, not all flights are created equal. You may pay the same price for a completely miserable flight where the service is horrible and you have to shell out extra for drinks and snacks versus a flight where flight attendants are angels and you have ALL the legroom (and arm rests) in the world. Routehappy helps you find the best bang for your buck with its flight search service. The site will tell you which plane has the most legroom, wifi, outlets, and entertainment, giving users a happiness/smile score for each flight. You can also read thorough reviews about airline—from the food to the crew—as well as reviews on the arriving and departing airports.  Even topics like baggage claim and security are covered. If having the best flight ever is your goal, Routehappy is for you.

3. Google Hotel Finder and Google Flight Explorer
Your next hotel or flight booking is just a Google search away—seriously. Type in your departure airport and arrival airport, or city name and hotel, and you're good to go.
Google Hotel Finder is a meta hotel search engine. The nice thing about Google Hotel Finder is that you can price compare right in the search engine with an easy click of "Book" with fees and taxes included, unlike some competitors. You can also read Google reviews to help you narrow down your choice. For example, Google shows Expedia is offering a room for $380, while Booking.com is offering the same room for $390. Another cool feature is the direct integration of Google Maps. For certain cities, you can find hotels for a specific neighborhood (expand map and select a neighborhood from the Location drop-down menu) and search for hotels that are only within a certain area. While you can't actually book hotels on the site, it's still just one click away.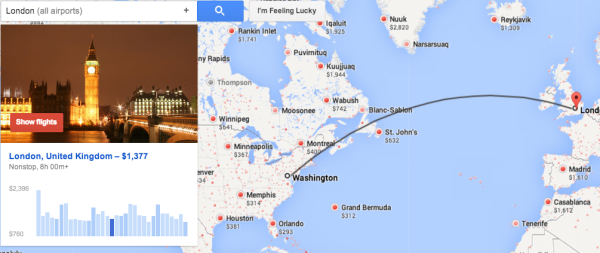 Google Flight Explorer will show you cheap flight comparisons from various airlines and booking sites, although they're sometimes sponsored. Nevertheless, the coolest feature of Google Flights are its useful facts. If you want to know how often a flight is delayed, if it has outlets, personal entertainment, or if its a prop plane, Google knows all. However, Google Flights seems to book more often directly through airlines than travel deal sites, which is a bummer. The benefits of Google Flight Search are super-fast search times and a sleek, easy-to-understand interface. Google Flights also has an awesome map tool, where users can compare pricing on flying to different cities. Clicking on Google's familiar "I'm Feeling Lucky" button will take you to a random location, where you can check a Momondo-like graph telling you when the cheapest flight dates are.
4. LoungeBuddy
Ever been stuck in Detroit for hours on end due to unforeseen circumstances? The LoungeBuddy app will help you find a comfy airport lounge to spend those murderously long hours waiting for a plane to defrost/hurricane to pass/airline get its s*** together. LoungeBuddy has a slick and easy to manage interface and is also free. Even better, LoungeBuddy will tell you where to find all of hot airline clubs inside an airport, whether they are accessible to you and how much they cost. Pro-tip: Sit outside to get their free and fast wifi if you're not a paying member. You can also view lounge ratings and user photos, depending on your level of lounge snobbery. And of course, you'll be able to see if your lounge offers the things you care about—amenities like cocktails, newspapers, snacks, printers and copiers. This is app is a definite must for frequent travelers who find themselves stuck in airports all too often.
5. Tingo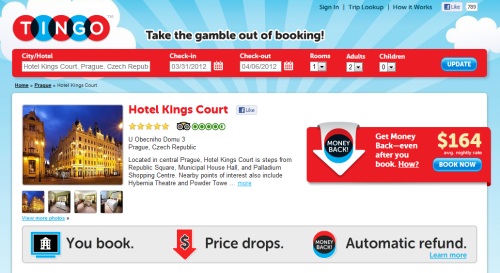 Tingo is a TripAdvisor company with a very unique service. Say you booked a hotel room. If the price drops in between the time of booking and the time you arrive, Tingo will automatically drop your previous booking and book for the lower rate "hassle-free." This service works well because a lot of hotels offer free cancellation. However, the average consumer doesn't have the time to watch hawk-eyed over hotel price fluctuations. Tingo does this automatically, so you don't have to spend an ounce of energy on this tedious task. According to Tingo, their site saved the average traveler $54.30 last year. Check it out for yourself.