Google I/O developer conference for developers and consumer alike has finished up for the week and we've put together the wrap-up. Below you'll find a quick rundown of the most important announcements for today:
General Android Developments
Google threw out some satisfying Android stats for the fan boys during I/O: This year, there are 1 billion active Android users around the world, 93 million selfies are taken everyday on Android, and Google's phones are checked 100 billion times per day, up from 400 million this time of year in 2012. Self-aggrandizing enough for you? No? Well, let's keep it going.
Android One

To reach the next 5 billion people in the world, Google has announced Android One, an inexpensive and fluid hardware and software standard set for Android hardware manufacturers building inexpensive devices. In essence, smartphones like the Nexus 5 will get up to date software straight from Google. Android 4.4 KitKat was actually designed for this exact purpose (less bloat, lag, and better overall responsiveness). One of the first companies to use this is standard is Micromax. This company's phone will cost less than$100 which is crazy cheap, and will open a much larger market for of consumers in need of smartphones. Think of Android One-compatible  devices as the Nokia Candybars of smartphones: cheap, yet reliable. So what's the take away? Google is looking to own the smartphone market, especially in developing regions where handheld internet devices aren't as ubiquitous.
As noted by Verge, Android One phones will feature less expensive hardware such as 4.5″ screens, dual-SIM card support, FM radio, and SD card input. Much of these tools are especially useful in the developing world, where cellular towers are harder to come by along with cloud data. With the price points under $200, Android One devices also look to compete with Nokia and other manufacturers already heading the cheap-phone market. A good example already in existence includes Motorola's Moto E for just $129, a bare bones smartphone with no front-facing camera, but most of the bells and whistles (including dual-SIM support) an average smartphone user would seek.
Android L
Google showed us the UI of Android L 5.0. The project nickname of Android Lollipop has supposedly been confirmed. Android 5.0 will focus on making an Android version that is unified around all devices and platforms, with a consistent design among all. First impressions in the blog sphere are flatter icons, minimalist design, and modern font and color schemes. Google is building L with their new design language called "Material Design." Android L's Material Design theme will allow developers to use state-of-the-are 3D shadows and interesting physics effects. The new Material scheme demoed at I/O this week will be pushed to all stock Android apps including GMail, Chrome, etc., along with other basic Android functions. For developers, this will be a brand new sandbox to play in. For consumers, it's the same Android game with fancier fonts and better notifications features. Prime example: More notifications on the lock screen.
For the gist, check out Google' video:

Android Wear
This will be the new platform for all kinds of wearable devices. Android Wear will support both square and circular screens (Moto 360 later this summer) as an OS. The  interface is purely based on Google Now, offering the same card features you see on Android's smartphone application. Android Wear allows calendar management, weather updates, and even flight or traffic updates.You can also choose to reject or answer calls from Android Wear tech. Some applications may be used in sync with smartphones, much like the Galaxy Gear.  These counterpart apps will be automatically ported to Android Wear when installed on a smartphone. Two smartwatches currently available featuring Android Wear are the LG G Watch and the Samsung Gear Live. Both are available for purchase via the Google Play Store.
Android Auto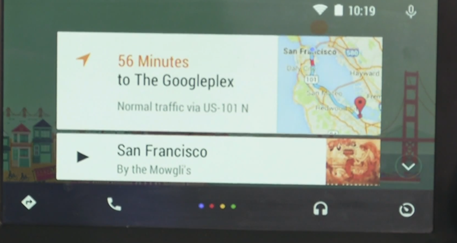 Android Auto is Google's solution to Apple's Carplay, and it's about time. The service requires plugging in your phone, nevertheless.  The best part is the integration of Google Now's UI, allowing access to your "cards" and location patterns. The layout has big buttons and a very easy to understand layout. Of course, the real bonus is use of Google Now's voice recognition system, allowing you to spit out addresses and navigate home on the fly. Several music apps will be supported as of now. We look forward to the 40 automotive companies that have joined with Google to make these features available.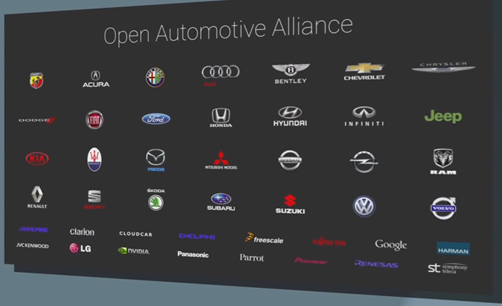 Android TV
After Google TV's failure, this is a nice breath of fresh air. Android TV will extend Android's mobile software to the big screen, although independently from a smartphone. That said, like Chromecast, users can still control it remotely from Android devices with Google Cast built into the hardware. Google will release Android TV through smart TV partnerships with manufacturers and several settop boxes being built by Razer and Asus to name a few. The UI of the entertainment platform uses Google Now's card-based and voice-based UI. Google Now is smart enough to recognize Queries such as "Oscar movies from 2002" and it will bring up those films in a snap. The bigger news here is the massive support for games and external controllers using Android devices. Look for the release alongside Android L later this year.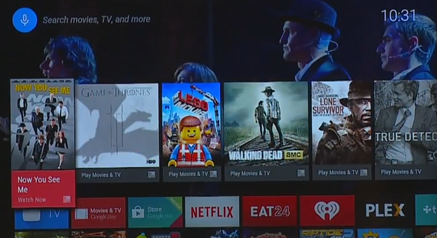 Source: Google I/O Video