Breaking news from Google this morning. Chrome Remote Desktop is now available in the Play Store for controlling your PC or laptop remotely.  The application has been available in Chrome's Web Store since 2011 as an extension, but only with limited use for controlling other computers from, well, computers. The mobile application is available for use on Android devices, so there's hope even your most curated of app stores (for instance, Amazon Kindle's) will also allow you to download Chrome Remote Desktop.
In my use so far, controls with the app are a little difficult to get used to. This is because this you are  required to control your computer's cursor (mouse) rather than a simple tap and swipe touchscreen interface. Instead of pushing where you want to view your computer's desktop, you need to push your actual cursor around the screen. This, however, may be different if you have a touch compatible computers like a Windows 8 touchscreen computer.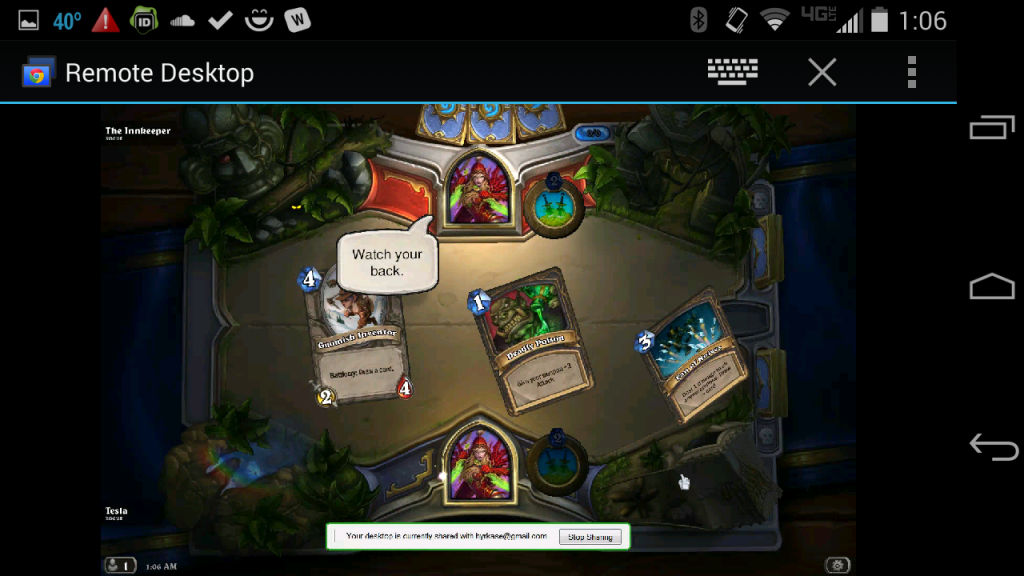 Unlike the Web Store version, there is no sound transmitted from your computer to the app. Lag does not seem to be a problem, but graphics will seem delayed as frame rates do not translate well over remote desktop software. In other words, we wouldn't recommend streaming anything or playing video games, although I did try some Hearthstone for fun with subpar results.
In order to set up Remote Desktop, you'll need to hook it to your laptop or PC first (Mac or Windows) with the Chrome Web Store extension. Users must then create a security code to access the computer of choice. Just type this code into your Android device's Remote Desktop app when you want to access said computer.
The change is a great step forward for the ubiquity of interconnected devices. What will you use it for? Turning off your computer when you forget? Closing some tabs you left open? Sending yourself that forgotten document on your desktop? The sky is the limit.
Source: Google Blog