If you live or work anywhere near NoMA (North of Massachusetts Ave) in NE Washington DC, it's likely you woke up to an extra WiFi access point–whether you knew it or not. Local company NoMa Business Improvement District (BID) announced the launch of its brand new WiFi network in the neighborhood of NoMa, Wednesday.  The coverage map provided includes many of the main drag pedestrian areas with sidewalks and new businesses. The area is part of the up-and-coming DC tech sector where the likes of Google, NPR, and plenty of young startups have migrated over past few years.
The new "free outdoor WiFi network" is available to the public with additional coverage planned. You can see the current coverage set up below compared to the planned complete roll out of the network. Anyone can connect to the network by choosing "NoMa Connected" from their WiFi access point list and accepting the terms and conditions in their Internet browser.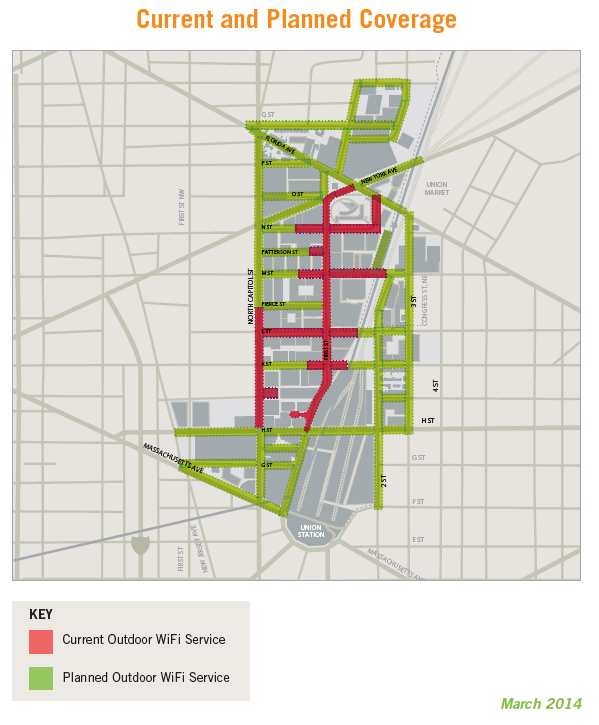 As for speed, NoMa Bid says 2MB/second is the limit for busy times and it won't be viable for streaming videos or any other heavy usage. NoMa is the first neighborhood in Washington DC to receive public WiFi. NoMa BID was created by the DC government council in March 2007 by Mayor  Adrian M. Fenty.
"The BID supports the emergence of NoMa as one of the District's most exciting mixed-use neighborhoods. Through a special assessment collected from property owners in a 35-block area, the BID is helping to make NoMa more beautiful, friendly, and attractive for businesses, residents, and visitors," says NoMa BID's website. 
Tech Void will continue to update this story as information arrives.
For more information, you can read the full press release from NoMa Bid below:
—
Up in the Air: NoMa Launches WiFi
First DC Neighborhood to Offer Free Outdoor WiFi Network
WASHINGTON, DC, April 2, 2014: It's not just spring that's in the air in NoMa: A brand-new, free outdoor WiFi network is also in the air and now available in many outdoor public spaces throughout the neighborhood. The first phase of this new service has been installed by the NoMa BID, and additional phases are planned. As the first neighborhood in Washington, D.C., to offer free outdoor WiFi, the NoMa BID is providing this interactive amenity to make NoMa even livelier.
"NoMa is home to tech-savvy businesses like Google and NPR, as well as lots of smart, creative people," said Robin-Eve Jasper, President of the NoMa Business Improvement District. "The NoMa BID is constantly working to improve NoMa's public spaces and create a more connected community for neighborhood residents, employees and visitors. We think the outdoor WiFi system will be a great complement for NoMa parks as they are developed."
The NoMa BID is encouraging Internet users to try out the system and tell us about your experience on Twitter and Facebook. Click here to view a map of existing WiFi service areas. Click here to view a map of proposed WiFi service areas. For more information and Frequently Asked Questions about the NoMa WiFi system, please visit www.nomabid.org/wifi.
Special thanks to the District Department of Transportation for allowing equipment on their streetlight poles and to Polinger, Shannon and Luchs and Principal Financial Group at 1200 First Street, NE; The JBG Companies at 1300 First Street, NE; CIM Group at 899 North Capitol Street, NE; First Potomac Realty Management at 840 First Street, NE; and StonebridgeCarras at 175 N Street, NE for allowing equipment on their buildings.
About NoMa
NoMa is a vibrant, growing neighborhood nestled between Union Station, the U.S. Capitol, Shaw, and the H Street, NE corridor in Washington, D.C. Over the last several years, private developers have invested more than $5 billion in the 35-block area within the NoMa BID boundary, and have plans to develop more than 20 million square feet of additional office, residential, hotel, and retail space. With a capital investment of $50 million from the District government in 2013, NoMa will soon have great new parks and public spaces as well. NoMa is home to more than 3,900 terrific new apartments, and more than 40,000 people work here each day. NoMa is the most connected neighborhood in Washington, D.C. With unparalleled transportation access on Amtrak, VRE, MARC, two Red Line Metro stops, and vehicular access to Interstate 395, visitors, workers and residents can easily travel throughout the region as well as get to New York or anywhere on the East Coast. NoMa has a WalkScore of 92 and offers great biking facilities, including three free outdoor air pumps, the East Coast's only Bikestation, the 8-mile Metropolitan Branch Trail, and seven Capital Bikeshare stations. The NoMa BID organizes more than 50 free award-winning community events each year, connecting more than 20,000 friends and neighbors. For more information about NoMa, visit www.nomabid.org and sign up for our bimonthly newsletter. Follow us on Twitter @NoMaBID and like us on Facebook.
Source: NoMa BID