My first encounter with the LG G Flex was within the walls of the most universally loved tech convention, also known as CES (2014). Under the Las Vegas Convention Center's bright lights, and LG's drastically amped up stage presence (yes, booth babes), I found the 6" LG G Flex, the supposed star and potential flagship smartphone for the brand. But how could this be? It looked alien. The Flex was curved–just like all of those gorgeous OLED televisions hanging on the wall. And it was too big of a  phablet for my hand. Oh, and did I mention that the buttons are on the back? Novelty curvature aside, this phone was more confusing at first glance than anything I'd encountered in mobile technology before.
So what's left to say about the LG G Flex on AT&T? Well, after spending some time with it, I found the Flex is less about the phone, and more about LG's ideas on the future of handsets. Read my full review below to get the gist of this quirky behemoth.
Design
Let's start bluntly. The LG G Flex is a 6" phablet. It has an alarmingly bright and beautiful 720p screen (though, why not 1080?), and and a slight arc that curves nicely for Netflix and YouTubing HD content. It's weird, different, and it's the first "woah" of changes seen in smartphones since the Nokia's Lumia 1020. It also reminds me a bit of the first Lenovo Yoga laptop which folds over itself into a tablet. The Flex's curve is pumped by LG to be great for comfort in hand and during phone conversations. But in reality, its only relevant to stark viewing angles. The three-dimensional feel you get scrolling up and down the screen is surreal. It's almost dizzying as text and images fly up and down the screen like its wrapped around a spindle.  It's novel, for a minute, but that's about far as we'd go.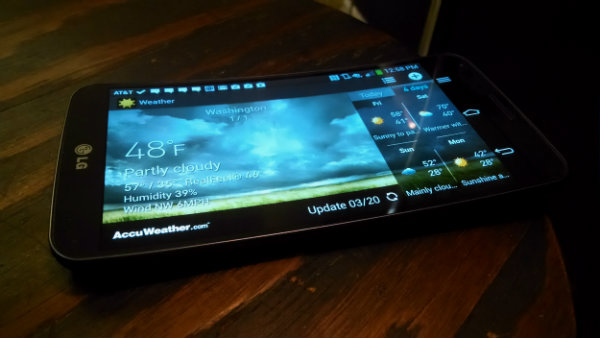 Let's get to the "Flex." LG says this phone can withstand up to 80 pounds of pressure, and at CES I did flatten it a bit on display, and it sprang right back to its shape without so much as a creak. LG promptly scolded me, of course. You can watch countless videos of people putting this phone through the ringer without so much ash a snap. However, the review model we received someone had already run the gauntlet. The plastic creaked and cracked at even the slightest thought of bending, so we didn't try to break this particular unit.
Onto the real LG design quirk: The buttons. They're on the back. And worse, the power button is located between the two volume keys, all of which are right beneath the rear camera lens. Genius, LG (sarcasm). This is by far the biggest design flaw of the device. In my time with the Flex, I smudged the camera countless times with my thumb whilst seeking the power and volume keys. If you like buttons, the Flex is not for you. Thankfully, LG allows users to "double tap" the screen on and off to get around this deficit, but I'll get to that later.
[slideshow_deploy id='4563′]
As for design–it's plastic. The edges feel cheap, the back is glossy, and it's not so much different than the Samsung Galaxy series in that sense. However, LG is proud of the device's molding because it's a resin that can heal. Scratch the Flex up with your keys and nails, and you can wipe the scuffs off or notice them disappear after just a few minutes. While this Highlander-esque healing feature is pretty cool, the grey plastic is so ugly and glossy, I'm wondering who would care if was scratched in the first place.
The headphone jack is at bottom which is nice, and no other ports exists save for the microUSB. You'll find the speaker on the back. It's decently loud and crisp.
Hardware
The LG G Flex might as well be a laptop computer. It's packing a Qualcomm Snapdragon  2.26 GHz Quad-Core Processor, Adreno 330 GPU, 2GB of memory, and 32GB of hard drive space. It plays games like a champ, and with the 720p OLED screen it's a beautiful experience with all its 16 million vivid colors. Speaking of which, you can actually choose three different display settings as if this were a television. If this phone has one benefit, it's that the curved display (Corning Gorilla Glass 2) actually does envelop the user in games and video. Colors are contrasted well, color reproduction is brilliant, and the viewing angles are fair. However, anatomically the curvature of the screen makes it more difficult to see without being dead center, so don't expect the video sharing experience to be superb with multiple people, even at six whopping inches. In terms of user experience, we never had any glitches or frame rate interruption unless it was WiFi related (Google Chromecast streaming, for instance). The device feels relatively light in hand considering its size, with is 177 gram weight distributed quite well.
Software
The Flex comes with Android 4.2.2 Jelly Bean (came out before KitKat), and LG's skinning is reminiscent to Samsung's older TouchWiz UI which makes things look  liquid or bubbly, especially on the lock screen. The home screens also swipe around in a three-dimensional fashion, the app drawer is at bottom, and all of the bottom menu buttons are capacitive. A KitKat update would be highly appreciated, but it may be a while as it's apparently only in South Korea for the moment.
The most interesting thing about this phone's software is how hard LG bends over backwards to make this 6" phone reasonable to someone with small or average-sized hands. As mentioned above, you can double tap the Flex on. And thank God, because reaching around to find the power button with one hand (accurately) is likely impossible for half the population. One firm double tap anywhere on the screen will turn it on, and the same works in the top menu bar to turn it off.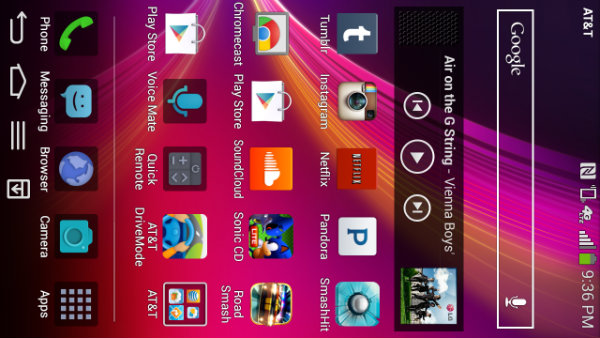 In addition, the capactitve menu buttons are completely customizable. You can have three or four buttons with different layouts, some of which include a quick memo button. There's also an entire menu bar called "One-handed operation." Here is what allows you to move the menu buttons to either the left or right side of the screen. It allows you to control the Flex with much less dexterity. I changed this immediately while using it during the review period, but it was still a monster to handle. At the end of the day, if LG wanted to make this phone easy to use, they could have simply made it a reasonable size.
Battery
The 3,500 mAh battery was actually really spectacular. It's definitely huge, but it lives up its size lasting for days on end. On standby, the Flex lasted over three days. But even when playing games, futzing with social media, or shooting pictures and video (regular to heavy use), I frequently got 1.5 days without a charge which is almost unheard of. It's also really impressive because it's a curved, stacked battery. It's more of a gimmick than use, but it is most definitely innovative. While we don't have an official battery testing schedule, in my average use it's one of few smartphones that has been this incredibly efficient and long-lasting.
Camera
This was another spectacular addition to the Flex. The 13-megapixel rear camera is by far one of the best Android camera's we've reviewed. Colors were vibrant, but not so over-contrasted it was devoid of being realistic. We were impressed in daylight scenarios indoors and out, and even in dimmer occasions such as bar light or crappy weather. Color reproduction, vibrance, and contrast were all stupendous.
[slideshow_deploy id='4568′]
Pairing this epic camera with all of LG's fun software modes made it really fun to use too. Burst Shot (hold the shutter for up to 20 instant snaps), Panorama, and Dual Camera (think FrontBack) all made the Flex for a brilliant Android shooter. We'd definitely rank this up agains the iPhone 5 models and higher end Nokia Lumias. Unfortunately, my personal and beloved MotoX barely stood a comparison.
General Use
AT&T worked great with LG G Flex in Washington DC, and weirdly my notifications on my personal Verizon Wireless phone were always seconds behind. The 4G LTE network worked brilliantly fast everywhere I went except underground, but what else is new? Calls and speakerphone worked fine with various friends and family, but it definitely felt a little ridiculous holding this phablet against my smallish face.
The real problem with the device for me personally is that general impracticality. It's a 6" lump in your front pocket that fits more comfortably in a back pocket (although you can sit on it without damaging it, in theory). It's also difficult to pull out in a hurry, and  navigating it with one hand (even with the double tap) is annoying. I found myself wanting to use my personal phone much more often when on the go. But at home, the Flex was nice for browsing Reddit, scrolling through Instagram, and watching Netflix or YouTube on its giant vibrant screen. After all, it's still smaller than my Kindle Fire and turns on with a couple taps.
Overview
LG  took risks by trying to break the mold with the G Flex, and it doesn't go unnoticed (But really, how could you?). The curved OLED screen on this device is beautiful, and the innovation to create a flexible battery, display, and backing that can be used and abused, all the while retaining its shape and style (scratch-proof plastic), is admirable. I admit being harsh on the Flex before I'd had a chance to review it. Nevertheless, after spending a fortnight with the device, it did grow on me. Its battery life is superb, the 13 megapixel camera is one of the best I've used on any Android device, and the display is brilliant for watching videos and playing video games (Sonic CD was especially fun).
If only LG had made the G Flex just a bit more reasonable in size. At even just 5", the practical use would be seen. Are flexible, curved smartphones the future of mobile devices? Perhaps, some day, but we have yet to see other hardware manufacturers follow suit. You can pick one up at AT&T for $299.99 with a two year contract.
7/10