After months of speculation, the Samsung Galaxy S5 has finally been revealed by the hardware giant itself. So how did the Galaxy S5 turn out compared to the rumors? Check out the rundown of the new flagship phone below.
Design
The S5, for the most part, has a very similar design to its predecessor. In a quick glance, one may not be able to tell the S4 and the S5 apart. Upon closer examination, the changes become evident. The first change is on back plate, which has a rather weird, soft touch texture—some have compared it to a band-aid (above). The design is interesting, but might not be the most popular choice, at least in comparison to HTC and Apple's aluminum designs.
The most obvious change which was rumored is a fingerprint scanner on the home button much like the iPhone 5S. The difference is that you actually put your thumb on the screen rather than the home button and swipe down with your fingertip. There are a few other minor changes, including a ever so slightly larger 5.1″ display (.1″ bigger than the S4) and a 16-megapixel camera featuring great new auto-focus features.
The second major change to the S5 is the charging port, which is actually covered. Why, you ask? The S5 is actually IP67 "water and dust resistant," which means that the device is both completely dust-proof and will withstand up to one meter of submergence in water. It's not meant for deep submergence in water, but it can supposedly handle for a few minutes and a few feet at a time, although we're hoping it will hold the accidental 30-minute wash cycle). Unfortunately, Samsung didn't cover the headphone jack, so not all attack points have been secured from H2o. Bummer.
Also new is the multitasking button, which has changed to capacitive. It may take time for returning users to get used to it. The home button and back button remain the same as before. From a physical standpoint, everything else about the phone remains fairly stagnant and nearly indistinguishable from the other Samsung Galaxy models.
Hardware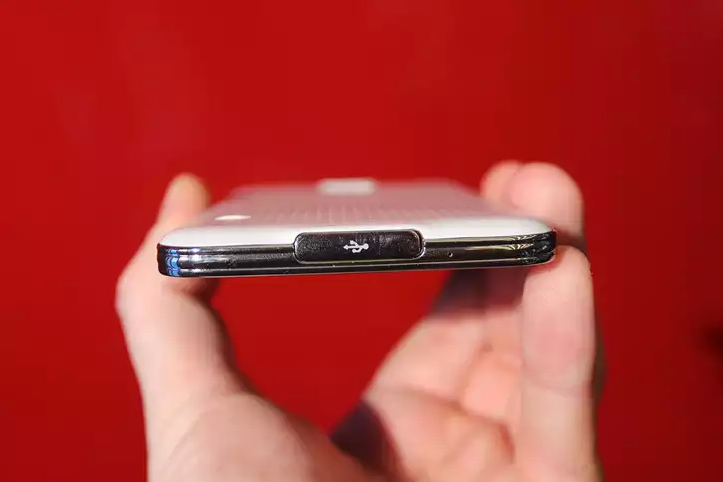 Samsung has continuously pushed the highest end hardware for its Galaxy S and Note devices. The S5 is no different. The S5 packs in a Quad-Core Qualcomm Snapdragon 801 and 2GB of memory. It also has a larger 2800mah battery. That said, the display is nothing new at 1920 x 1080. As usual, access to the internals is nil, and it comes in a 16GB and 32GB models. As mentioned, it also has that new and improved 16 mp camera that will compete heavily with the Moto X and iPhone models.
Software
Samsung has finally done away with its glossy and bubbly Android skin (our favorite change). One of the most notable changes to this is in the settings menu. It's very similar to Firefox OS with the circular icons and a search option. In addition, there is now an "Ultra Power Saving Mode." What's so ultra about it? It turns off your colors, changing your screen to black and white and also turns off all "non-essential" services. These services haven't been defined as of now but likely include mostly internet data services and background applications you aren't using.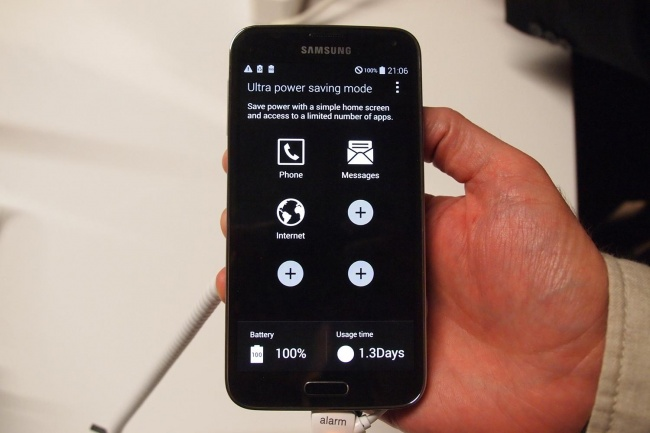 Then of course there is the software behind the on-screen fingerprint scanner. The fingerprint scanner will have a broader use than simply unlocking the phone. Like Apple, owners will also be able to login to PayPal and utilize other app security services in the future for purchase and payement. We're still not sure on the dead man's thumbprint theories.
Price/Availability
The Galaxy S5 will be available on all major carriers. Currently no pricing is set, but we imagine it to be similar to previous iterations with service contract rebates attached ($299.99?) Release is slated for April 11 to over 150 countries.
Via: Digital Trends, Phone Arena
Source: The Verge