Samsung Galaxy S5 rumors are swirling the tech web this month. The S5 is purported to have many features like an iris scanner and a larger battery. It is also claimed that two versions will debut, the main difference clearly being in the hardware specs. With only a a few days until Samsung's Unpacked event (Monday), we've decided to give you the full rumor round-up to prepare you for what's coming. Read on as we discuss the most likely possibilities for Samsung's new flagship phone.
Fingerprint Scanner
The S5 was first rumored to have an iris scanner instead of a fingerprint scanner. However, the latest talks has squashed the theory of an iris scanner. How Mission Impossible, right? Apparently bloggers and the tech community found this too far fetched, so it's now reported that Samsung has chosen to include a fingerprint reader instead. So how does this differentiate itself from the iPhone 5S? The fingerprint reader may be embedded in the display itself.  On pure speculation, this also could imply that the phone could have an odd-feeling surface. In my experience, fingerprint readers have very different textures than Gorilla Glass. Also, the Anndroid software would have to be modified to be able to recognize this input from anywhere on the screen. Otherwise, the fingerprint scanner will be part of the digital home button, closer to the one on the iPhone 5S.
Hardware
The S5 is believed to have a humongous 2900 mah battery. This is bigger than the S4's (2600mAH)  but still smaller than the Galaxy Note 3 (3200mAH). This battery will be necessary to power the giant display as it's clear power hog. Another major upgrade the rumored 16-20 megapixel camera.Whatever the case on this spec, the S5 will be a large step forward from the S4's camera. It will likely also have better support for "Air" features like Hover and Smart Stay. This is probably because Samsung has new tricks up its sleeve in sensing movement and faces. Between the two models, the possible differences in specs are below:
Version 1(Prime)
Processor Speed – 2.5 GHz

Processor – Qualcomm Snapdragon 80

Display – 2560×1440

Gpu – Adreno 330

Ram – 3 GB
Version 2 (Basic)
Processor Speed – 1.5 GHz

Processor – Octa Core Exynos 5422

Display – 1920×1080

Gpu – ARM-Mali-T628

Ram – 2 GB
As you can see on the basic edition, although being much weaker, it may include an 8-Core processor. This will likely not be in the U.S because this processor most likely doesn't support 4G LTE. The Prime has a 2k screen while the Basic only has a Full HD screen. You also see that there will be 3 GB of ram on the premium edition compared to 2 GB on the basic edition.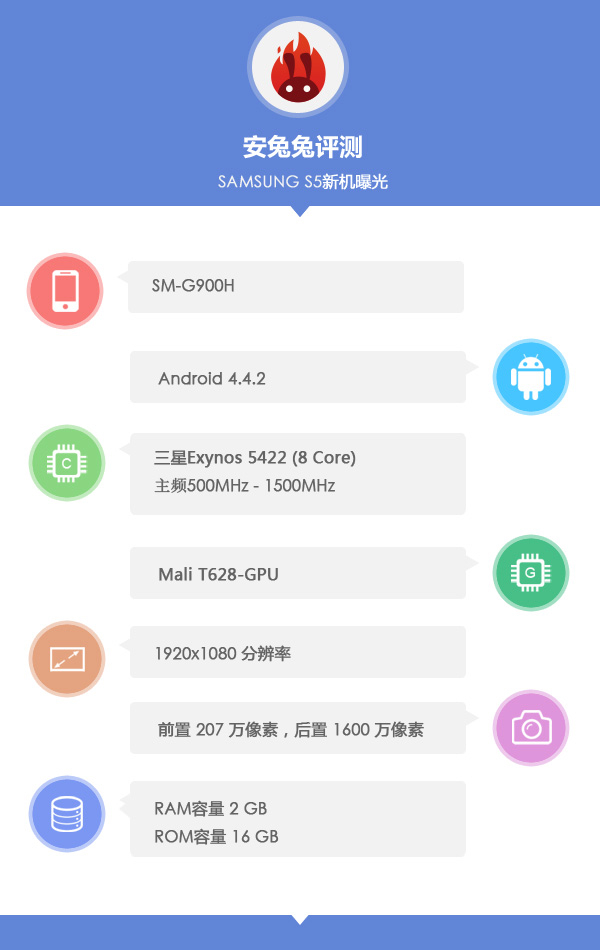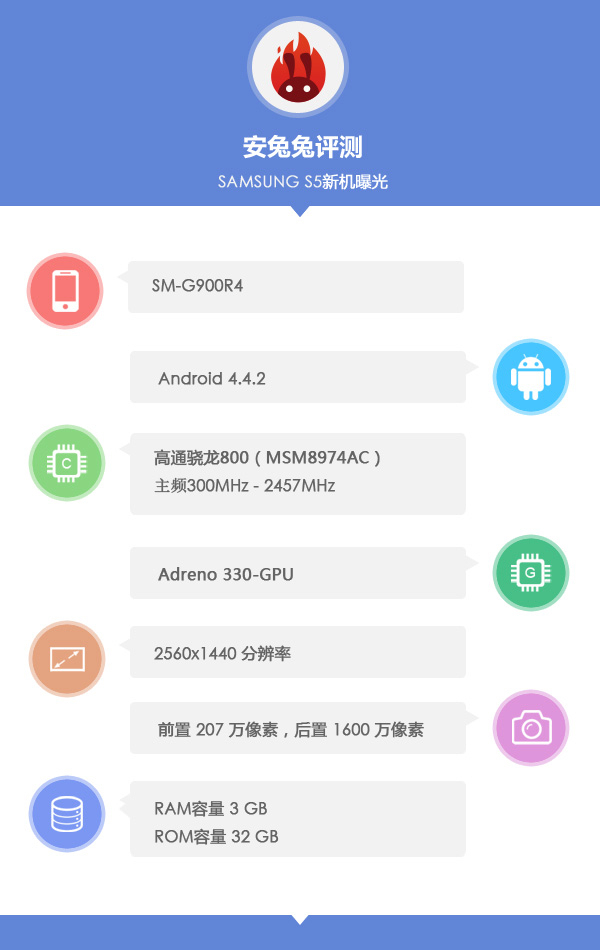 Software
The Galaxy S5 will obviously be running android, as it always has been. It will come out with the latest Android KitKat. Obviously it will also come with Samsung's proprietary skinning, Touchwiz.  Touchwiz  is said to have a more flat clean interface. As you can see in the leaked/mocked up image below, it seems to be much more refined. Also, with the Unpacked teaser Samsung has shown off, new icon stylings will be likely.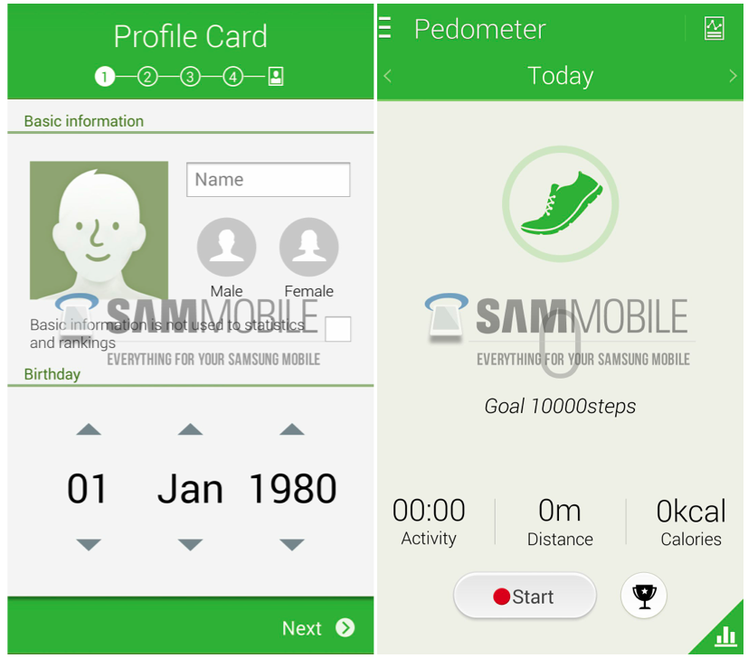 Expectations
My expectations for the Galaxy S5 are like any other flagship phone. The phone better be the six million dollar man: Better, faster, and stronger, and overall appealing. Samsung pleased the croud well with their 2013 iterations of the Samsung Galaxy and Samsung Galaxy Note. We can only hope the trend continues into 2014. I expect the S5 to have a new/simplified Touchwiz UI. I also expect the specs to be top notch, competing heavily with Motorola and Apple's phones. I will not be surprised if they release multiple versions. But all will be revealed soon enough. The announcement is expected at Mobile World Congress February 24.
Via: GSM Arena Techradar
Source: BGR