Edit: As of Sunday, Doug Nguyen kept his promise to take down the app Flappy Bird to the dismay of many smartphone owners. The free, Nintento-esque side-scrolling game had reached over 50 million downloads since its debut.
Flappy Bird, currently the most popular free game on Google Play and Apple's App  Store, was be taken down in a matter of hours says game developer, Doug Nguyen.
Nguyen tweeted to his followers Saturday morning, "I am sorry "Flappy Bird' users, 22 hours form now, I wil take 'Flappy Bird' down. I cannot take this anymore."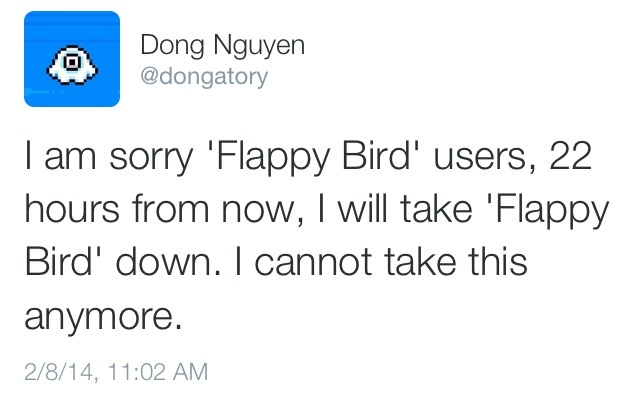 Nguyen also said that he was not taking it down for legal reasons but for the fact his games were being overrated. According to Verge, Flappy Bird was raking ins $50,000 a day on average from its banner ads. The game features a Nintendo-esque bird flapping through an equally Nintendo-esque environment of green pipes, pixelated grass and a scrolling 2D backdrop of night and day scenery. The object of the game is to tap this "Flappy Bird" through the gaps in the pipes without touching the ground or a pipe.
The absurd difficulty is what keeps players on edge, attempting to beat their previous high score which is tallied as Flappy Bird passes through each obstacle. It's an unfortunate end to a amazingly successful and simple game. We recommend you download the tiny frustrating bird while you still can. That being said, this could all just be a genius marketing ploy.