We've decided it would only be fair for chastised Android gamers to have a list of the top ten Android games worth playing right now.  iOS always seems to have it all, but we're looking to defy the mold with better knowledge. We polled many of our Android-loving friends and readers to see what games they are playing and ranked them accordingly. Read below and find the greatest way to waste your precious hours eye-gazing at your smartphone at work, during your commute, and God forbid, the bathroom. All of these games can be found on Google Play, most of them completely free.
The  Top Game of 2013 at Google Play Player's Choice Awards was Ingress. Ingress features Alternate Reality (AR), an age-old genre of games that is increasing in possibility due to smartphone ubiquity, and they're more exciting than you could imagine. AR is an immersive game environment that squashes video game stereotypes by getting players out of their homes to chase destinations in the real world.
Quests in Ingress have players seeking places in their own home town and city to "hack" designated points using your GPS. You have to get within 35 meters of said points and a Sci-Fi story involves players at the same time. The idea is pretty original, but it also brings up interesting implications. For instance,  how far can a video game go in dictating an action by a game player? Where does the game begin and real life end? And, of course, where do they collide? Ingress likely doesn't ask you do anything illegal, but if, for example, there was a sign nearby for "No Trespassing," and an Ingress player had to get beyond it to reach their hacking point, who would be liable for breaking the law? God knows how addicting games can be, and teens acting out GTA 5 is exactly what parents have worried about for decades. Slippery slope argument, sure, but it's a concern worth debate. For a full introduction and more thorough explanation of how the game works, check out the videos we've included above and below.
2. Dots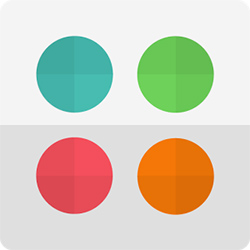 Whatever happened to the simple games with beautiful nuances? Look no further for Dots, the simple trace, match, and dot deleting game, which makes colored dots more entertaining to humans than a laser pointer to a cat.  What's so great about it? The SOUND EFFECTS. There's just something about the sounds the developers created for this game that makes connecting and removing nine dots at once so satisfying. The sounds also fit the quick and subtle animation perfectly. Achievements for deleting different arrangements of dots are also available, making shooting for a high score a never-ending goal. Our favorite part is the seasonal themes Dots developers have debuted, alternating colors for fall or Christmas, including snowflake animation backdrops to boot.
It's not quite Bejeweled, and it's less difficult than Tetris, but  it's a satisfying game for all ages, nevertheless. Bonus items can be purchased with money or game points, allowing users to remove individual dots from the lineup, pause time, or remove entire colors from the board.  The game comes with several modes including Timed, 30 Moves, and Infinite (play forever, no time or moves capped). Check it out for yourself: Dots
3. Plague, Inc.
What's more controversial and satisfying to a morbid gamer than murdering the entire world's population with a deadly pathogen? Assuming nothing else, on Android it's definitely Plague, Inc., a popular smartphone game that just recently hit the Android Market (it was for iOS only).  The free game requires players to balance infectivity (symptoms), means of spreading pathogens, and drug research to prevent the world from curing your deadly plague of choice. The stage of the game is the world map, and players must select a nation to begin spreading, balance symptoms and strengths of the pathogen based on climates (humidity, aridness, heat, and cold), and continually modify their strategy to rid the world of human life. Fun facts and spontaneous news events may also affect players game play styles, such as the London Olympics or even heavy bird migrations. Take it for a spin yourself. It's free.
4. Minecraft Pocket Edition
$6.99 might seem a little steep, but to get the entire Minecraft experience in your pocket is a notable one. All your favorite block building features are now Android-friendly and equally addicting and mind-bending as the PC version. Mining blocks, textures, and graphics are continually updating and the one-time fee allows you to play on all your Android devices. Oh, and you can still play with your friends, no matter where you are (bathroom stalls approved). Check out the game trailer of Minecraft PE below.

5. Despicable Me Minion Rush
If you haven't seen any of the Universal's Despicable Me films, you're missing out. The minions are hysterical and now starring in their very own action-packed smartphone game, Despicable Me Minion Rush. The game is one of the most interactive side-scrolling games on Android right now, and it features all of the sights, sounds, and graphics inspired from the Despicable Me films. Obviously the minions are center stage. Thousands of them. Dress them up in costumes, take down big bosses, and collect bananas like Donkey Kong through various levels of high speed and cooky pursuits of evil. It's honestly a lot like Sonic, and equally, if not more, satisfying to play. This is great for all ages, especially your nieces and nephews dying of boredom at family gatherings. Download it for free.

6. Heroes of Dragon Age
Oh, God. We know, it's an EA mobile game. Heroes of Dragon Age is pretty exciting, however, so give it a shot. In this game players protect the land of THEDAS with hundreds of heroes, mages, and rogues. The RPG style game is a bit like Final Fantasy, Diablo, and other arcade hero fighting games, allowing you to level your characters and fight big bosses to save the world. Of course, the best part is that players can summon multiple heroes to establish strategy and take down dragons and other monsters using multiple abilities and strengths as squads.  Runes amp up your team's strength, and upgrades are available. Unfortunately, nothing comes without a pretty penny. The problem is that after level four, packs of heroes may need to be  purchased with real money to make progress. So what's the benefit? The heroes purchased are completely random, but many come with runes.  The randomization adds a bit of excitement to the game, but the cost EA is hoping to get from its players does make it lose novelty fairly quickly.

7. Temple Run 2
If you played the original Temple Run, you'll know how this quick-fingered game drops you in the middle of the Amazon, a village, forest, or some undisclosed Myan-esque temple all to DUCK, JUMP, and TURN to avoid obstacles as you run from monsters to collect coins, power-ups and continue to run faster until imminent death. The graphics of Temple Run 2 are a tad more detailed and equally harsh on your battery, but it's a game that takes extreme focus and determination to continue unlocking characters, bonuses, and competing with your friends high scores. Download it for yourself.

8. Plants Vs Zombies 2
The iPhone and iPad  made the Plants Vs Zombies franchise gold, but Android has now taken advantage of the amazing plant and zombie flaying-fest. Release two months ago, the game is much like that of any tower defense, building plants (rather than towers) to defend your home against zombies. Utilizing the sun to get new plants with different abilities (snare, explode, etc.). The best part is watching the zombies limbs and heads pop off as you shoot the hell out of them. Graphics are pretty meager and cartoony, but as the game increases in level and difficulty, the amount of shit flying through the air is terrifying. Animations are smoother and better than the original Plants Vs Zombies, and loading is even snappier. Steer over to Google Play and get it for yourself free.
9. Clash of Clans
Clash of Clans is a cute, real-time combat strategy game where you must attack and defend fortresses and castles by developing an army with or without the help of online collaborators. Players get to choose from 15 unique units including upgrades. Defense includes towers and canons, mortars, bombs, walls, etc. However, the unique aspect to the game is the ability to collaborate with online players as well as compete for glory as clans. Graphics and animations are bubbly and fun, similar to the early Warcraft games. The game has a lot of cutesy innovations, including building options such as Christmas trees, and even their promo video makes jokes about mustaches. Players are pretty into the game, filming their strategies and uploading them online for the world to see, so get ready for competition. Download it here for free.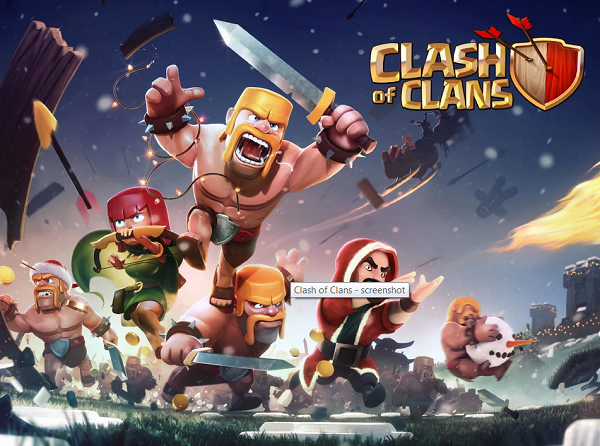 10. Deer Hunter 2014

If you're a fan of the animal hunting arcade games at your local bar (i.e. Buck Hunter), it's likely you'll love Deer Hunter, a pocket game for murdering bucks, bears, ducks, and safari animals. Or, if you're a gun aficionado, you'll enjoy upgrading semi-automatic rifles, handguns, and the like to the gills with infrared scopes and extended magazines—all of this in some morbid effort to build innately horrifying tools of death. You can also kill extinct animals, fictitious cats and bears featuring nicknames such as "One-eye," and kill bonus animals on holidays, like turkeys on Thanksgiving or undead deer on Halloween. I'm not kidding, I did it. Now all that shooting fun on your personal smartphone is great, but what's the catch? Deer Hunter 2014 is free, but GLU Mobile's bandwagon pay-to-play model makes you take breaks to regain energy, pay to speed up upgrades, or pay to skip the wait time altogether. Download it at Google Play if you're not a PETA member.