Mobile fitness tracking devices, aka wearables, remain constantly iterative, with new models showcasing an ever-evolving set of features released regularly. Among the most common are Nike's FuelBand, FitBit and Jawbone. But none have quite snagged my commitment as a consumer for any of several reasons:  rumors of awkward or uncomfortable fit during a workout, lack of an Android-compatible counterpart for the device's mobile syncing component, etc. CES is proving to be a popular platform for the announcement of quite a few new wearable competitors for the marketplace, so I'll be taking a closer look at a few of these additional devices.
Before the device evaluations, I have to admit, I chuckled when reading one of the manufacturers compare its creation to a set of "high-end heart rate monitors." I think that pointedly summarizes my hesitancy in purchasing a wearable fitness device up to now. A glorified step counter is definitely not what most real fitness buffs are looking for. With that said, let's jump into some details of the newbies.
Spree
Dallas-based Hothead Technologies will be showcasing its new Spree fitness tracking technology this week at CES. Hothead defines the device's differentiating factors as body temperature tracking and the placement of the band—on the head, rather than around the chest or wrist. The company asserts that the forehead is the most accurate and reliable location on the body to obtain body temperature and other information, while being as nonrestrictive as possible for the wearer. The device also keeps tabs on the wearer's heart rate, calories burned and speed/movement.
A useful function of the Spree is the simple transmission of collected biometric data to the user's smartphone app via Bluetooth technology. I do have to admit here though that I found it a letdown to learn that the app is only built for iOS, with no associated Android or Windows counterpart. So…not jazzed about that.
All that said, the Spree seems like it could be a strong player in the mobile fitness marketplace. The device, if nothing else, looks interesting and seems to have sound R&D behind its construction. However, we have to acknowledge that the Spree is developed for tracking athletic exertion—it is, by far, not a monitor that you'd wear and gather any useful data during the day while you're at your office or while you sleep. With long-standing complaints about the long-term wearability of wrist-based technologies, let's just see if workout buffs are open to wearing a data-gathering headband for short-term periods and potentially missing out on the supplemental sleep and general activity information.
Garmin's Vivofit
Anyone whose taken a roadtrip over the past six years or so is likely familiar with Garmin to some degree. For a while, the company had a lock on the on-road navigation marketplace. The ubiquity of the smartphone (i.e., mobile Google Maps and other similar software) has dissolved that hold on navigation technology, so Garmin is slowly but surely reinventing itself—and the Vivofit is the next milestone in that evolution. The Verge reports that Garmin announced the new fitness band at CES and plans to best the competition by integrating features meant to connect more deeply with the wearer.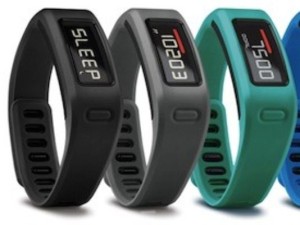 The upside to a Garmin device is that the company has been in the business of wearables for quite some time, so, if anything, they know how to make a comfortable device.  Garmin is also placing a formidable amount of cache in making the device ideal for social/sharing—the user can easily access the Garmin Connect community through the device and see who else in the area is using a Vivofit, as well as initiate friendly competition among nearby wearers.Primary among these new features is an element that aims to "learn" the wearers typical rates of activity. This will allow the tool to eventually develop a baseline for the user, leading to the next feature:  a motivational 'red zone.' As the wearer of the watch remains stationary, a red bar will continuously grow. To reduce the red bar and "get out of the red," the wearer must become more active, which the Vivofit will track to constantly reassess progress. The device will also set periodic activity level goals for the wearer, constructed against the baseline and ongoing data-gathering.
Garmin's stong track record in the navigation space interests me, since I'm always hoping I can track my runs on a map. If this is not a technological addition that Garmin has thought through yet, here's hoping they do in short order. The Vivofit covers all of the typical bases of a fitness wearable, such as a calorie-burn counter and flat assessment of a distance travelled in a period of time (measured in steps or miles).
Movea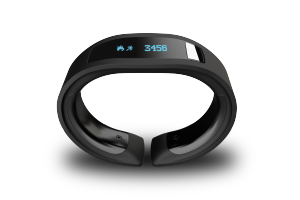 Movea appears to have been in the activity-tracking game for a while, but until recently, the company hasn't released a wearable that evaluates a broad range of fitness-specific data. What sets Movea apart is the company's strong legacy in motion-analysis.
New reports detail that an upcoming wearable wrist bracelet from the company will gather all of the standard runner metrics (e.g., speed, calories burned, etc.) and will also
have
functionality to determine the wearer's posture (standing motionless vs. strolling leisurely vs. speedily running along a route). Such a categorization of activity could be helpful to individuals for incrementally working toward important behavior changes—e.g., spend more of the day in motion, rather than sitting sedentary. The device can also assess sleep patterns of the user.
All in all, I have to admit that no one's made me a believer quite yet, but I'm highly interested by the new market entries announced by Spree and Garmin. Data accuracy and ease of access to the data in intuitive visualizations are paramount components of any wearable fitness technology that will entice me to purchase and continue to use a tool.
Let me wrap up this post with a very brief rant:  in the current mobile tech environment, it's almost unfathomable that any product
intended for mass consumption would have an iOS app associated with it, but not an Android or Windows option. This is a huge miss for any company that is looking to see its fitness product take off. Or maybe I missed the credible research that says only users of Apple products care about their fitness.