Samsung has quite the notable lineup of smartphones, but it's possible you have never heard of the Mega. Perhaps because it is not the most eye catching of the Galaxy brotherhood (no pleather backing). Maybe it's because Samsung has buried it on their own website. Whatever the case, Samsung seems almost embarrassed if not reticent to splurge its advertising dollars on this 6.3″ behemoth which is available on AT&T (our review model), Sprint, and US Cellular for $149.99 with a new two year contract.
Coming in at just a smidgen larger than the Note 3 (still a hefty 5.7″) with Android 4.2 JellyBean, this smartphone built for the likes of Shaquille O'Neal is still hard to miss. Below you'll find our full review of the unapologetically large everything that comes with AT&T's Samsung Galaxy Mega.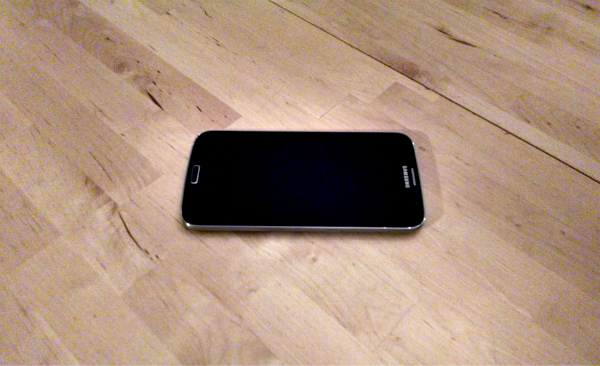 Design
Let's get to the obvious. Samsung smartphones are all pretty identical, and the Mega isn't changing the mold. It's easily mistakable for Note III, save for the fact it's an entire square inch larger in size. The Mega's 6.3″ diagonal comes with a 7 oz weight, .31″ thinness, and rounded bezels at the top and bottom. It features Samsung's clickable home button at the bottom, the volume keys on the left, and a speaker on the back, as well as an aluminum bezel around the edges. The only real noticeable difference between this and Note III is that the back is plastic (like the Samsung Galaxy S series) and it doesn't come with a stylus (it probably should).

The 6.3″ display has 720 x 1280 pixels and 16 million colors. Weirdly, we found it surprisingly washed out at lower levels, though brightness adjustment helped immensely. But at a meager 720p stretched over 6.3″, it's not the most vivid of AMOLEDs. The bigger problem is, of course, that the brighter the settings, the harder it is on the battery to power the massive screen. Nevertheless, the screen real estate was exceptionally useful for taking photos, which I'll delve into further down.
The Mega is still a fairly attractive device, and the only notable annoyances have to do with its size. The power button is in an awkward spot, two inches below the top right hand corner. This means you have to feel around to find it whenever using the Mega, and it's already cumbersome enough to handle with one hand. While it's in the same spot on other Galaxy phones, it's just that much harder to reach. On the back you'll find one speaker which is plenty loud, but sounds odd coming from the back when watching videos. As stated, in essence, the Mega is the Note's big (estranged) brother without the flashy, pleather back and stylus.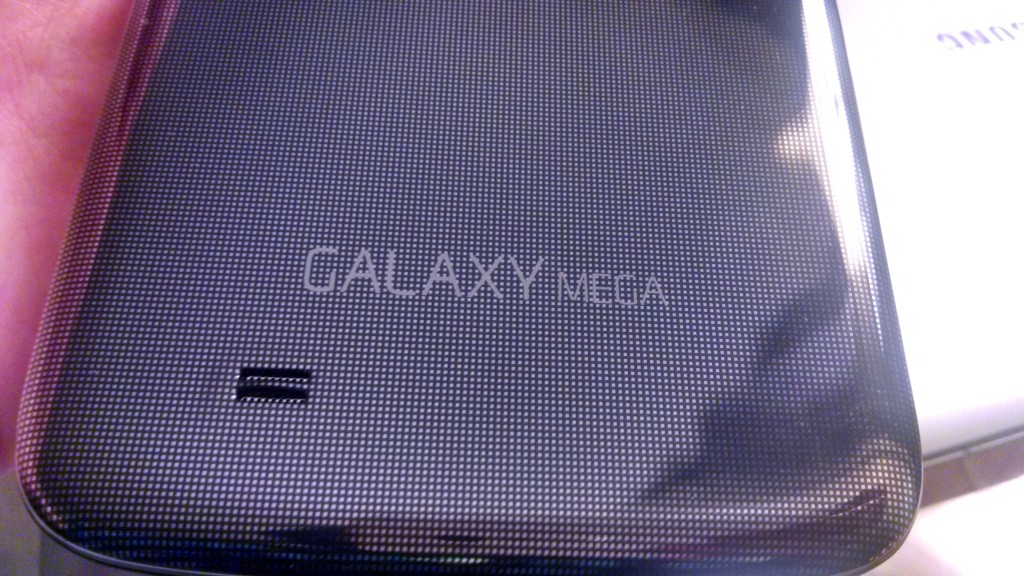 General Use
Samsung's software is pretty much the same as the S4 and Note. The settings are pretty superfluous, with some options you'll likely never use. However, there are a few we found quite helpful when navigating the Mega. Most notably Screen Stay, Multi-windowing and its Driving mode are useful and friendly. Screen Stay is great for browsing Reddit without your display going dark for you, and Multi-windowing saves you a lot of finger effort when wanting to switching applications. Just a touch to the arrow tab on the left of your screen will bring up a list of running applications you can swap between.
Typing on the Mega is fine with Swype, and missing letters is generally pretty difficult unless you're blind. Nevertheless, this is still a two-pawed device. That said, it's big enough where landscape mode  can be useful (find home row). Carrying this around DC was easier in a winter coat pocket than jeans, and I felt much less self conscious about it when doing that. If you decide to go with the Mega over the Note, we're assuming you consider this your tablet and smartphone replacement. Thus, it would be a good idea to get a case and put it in your commuter bag.
With a 1.7GHz dual-core processor, the Mega has no hiccups in opening apps, taking photos, or even gaming. Switching between apps can take a second, but no noticeable lag or errors happened during our review period. On AT&T's 4G LTE network, videos streamed promptly and web pages loaded just as quick.  So what about phone calls? It's likely you've never held a Kindle or iPad to your face before, but if you did it would likely resemble a phone call with the Mega. It's just a tad absurd, though I had no complaints about call volume or connectivity. While it's still embarrassing to have a 6.3″ smartphone to your face in public, it's a great face warmer for Washington DC's schizophrenic, sometimes below freezing winter.
Camera
The Mega's 8-megapixel rear camera is an interesting one to use, and specifically because of the Mega's size. We have all seen those guys filming with iPads at concerts, and this is nearly as bad. But after taking a few photos with this 6.3″ AMOLED as a preview display, it was kind of addicting. Photos turned out exactly how you expected. They weren't exactly as sharp as the Note III, but the camera app came with a lot of fun modes including HDR, panorama, and multi-snap ones. Video can also be shot in 1080p which turned out fine, but still nothing close to as great as the Moto X or other Samsung smartphones.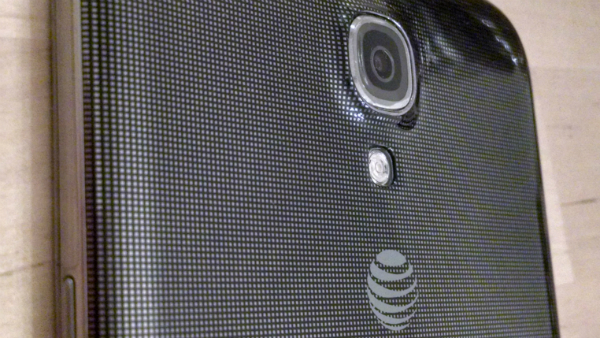 The front-facing cam is 1.9 megapixels and works better in well-lit areas, disastrously failing in dim rooms. Still, it's a great way to check out your hair and any blemishes with 6.3″ of yourself staring back at you.
Battery and Storage
The 3,200mAh, 12.16Wh battery is a large one, but keeping this thing alive while murdering its display on Plague Inc. or other gaming tasks is difficult. It lasts about a day, and the 6.3 inch display is the reason. Game time and lots of photography will kill the battery on the Mega in no time, and even more so than our experience with the S4 and Note III. Still, when used minimally, standby time was impressive. The Mega can last as long as the next morning with light use.
For storage, Samsung has 1.5 GB of RAM and 8-16GB of internal storage on this device. This can be expanded by the microSD slot underneath the battery, but Android 4.2 limits you on what you can actually store externally, so it's somewhat for naught. But this isn't any different than most smartphones, so it's definitely not a noticeable detriment. And as most Android users know, there's always the ability to root their phone to allow better storage management.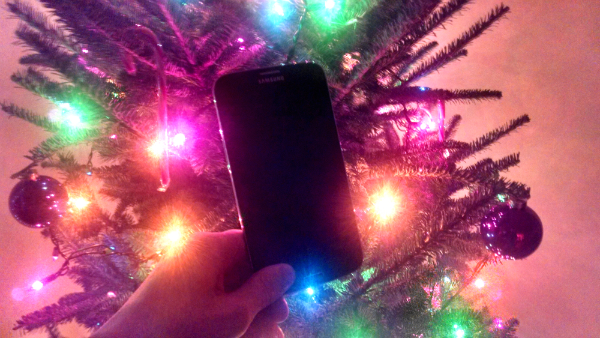 Overview
So where's the benefit to all this Mega size? You'll definitely never lose the thing, but, more importantly, the viewfinder for taking photographs is stupendously clear. Also, reading on the Mega can be done at tablet-like comfortable distances, and playing games is a much more engrossing experience. That extra square inch of  screen real estate over the Note III is simply fun. However, it's obviously impractical as a handset.
With so many features similar to the rest of its Galaxy lineup, it questions why Samsung bothered with the device in the first place other than that "larger than life" novelty. Of course, its lackluster performance in battery and clown car size is a clear answer to why it's not the most advertised. The S3, S4 and Note III are still Samsung's most successful and beloved smartphones, and they're definitely aware.
During my use of the Mega in DC over the holidays, Pocket friendliness was constantly suspect. Small and even average sized hands are instantly dwarfed, and it's generally much bigger than a person's face. The power button was difficult for me to find blindly, and the Mega's home button would be much better as an on screen touch interface.
But I'll say it once more, the Samsung Galaxy Mega is a great device as a tablet replacement. Photography and phoning can seem awkward in public, but if you use it more like a Kindle or iPad Mini with the ability to send texts and make phone calls, it might seem less of a stretch.
The AT&T Samsung Galaxy Mega comes in Black for $149.99 with a 2-year contract.
6.5/10