Amazon founder and CEO Jeff Bezos made an aptly-timed announcement during his interview with Charlie Rose on this past weekend's pre-Cyber Monday episode of 60 Minutes. Amazon, which started as an online bookseller, seems to have taken cues from science fiction with its plan for the future of delivery: drones! The proposed new service, called Amazon Prime Air, has the potential to deliver packages to your door via autonomous drones called "Octocopters," all within half an hour of placing your order on Amazon.com. The drones are currently designed to deliver items weighing five pounds or less to anyone within a 10-mile radius of an Amazon distribution center (there are 96 worldwide). While those specifications might sound limiting, Bezos noted that items under five pounds account for 86% of all merchandise Amazon delivers. So how soon will you see drones on your doorstep? Bezos predicts FAA approval for his company's drone delivery system will not become a reality until 2015 at the earliest, but we've thought through a few potential pitfalls of the drone deliverymen just in case… Buckle your seat belts, Amazonians.
Five Unintended Consequences of Amazon Drones:
1. Peeping Drones
Close your blinds or you might be asking your drone, "Is that my package in your pocket or are you just happy to see me?"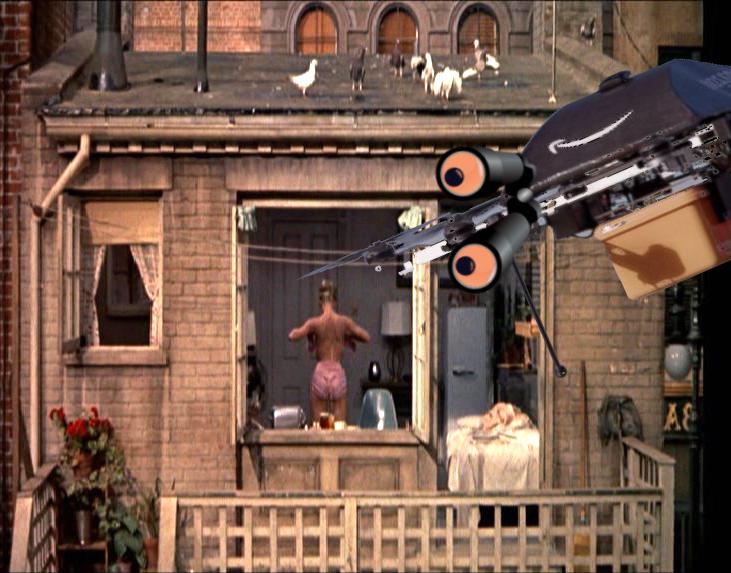 2. Get Tom Hank's Agent on the Phone CAST AWAY Needs to be Re-shot!
Without the film's opening Amazon plane crash, would Tom Hanks and Wilson have ever found each other?
3. Wind Turbines Have an Ally
Decapitation by drone would be a rough way to go… Birds, beware!
4. Guess Who's Droning to Dinner
God forbid your daughter should fall for a tall, dark, autonomous Octocopter….
5. Yes, Virginia, There is a Robo-Santa.
Will children everywhere lose faith in Ol' Kris Kringle? A man with eight tiny reindeer sounds so last century…
Especially since Amazon's warehouses (which the company calls "Fulfillment Centers") might be the closest we've come to Santa's Workshop.