Update: After this review, Motorola made numerous price drops to the Moto X in order to compete with the Google Nexus 5. For $399, you can currently buy the Moto X without a contract. However, this February, Motorola is also offering a Valentine's Day deal for the 16GB model on Moto Maker for only $329.99. Otherwise, it's $49.99 with a 2-year agreement with any of the four carriers including: AT&T, Verizon, Sprint, and T-Mobile. Let the price gouging continue…
Puns in this headline are fitting, because if there was an Android phone that encompassed all of the beautiful features I'm looking for in phone, the Moto X would be my bride. This smartphone is the sexiest Android device I've had the pleasure to review. And this says something, especially when you consider how many devices come up short due to manufacturer bloatware, customization limitations, and simply lackluster performance. Android phones have come a long way since their beginning, and the Moto X is a testament to the future of high quality smartphones to come.
Design
The Moto X fits in your hand. And I emphasize YOUR hand because that's exactly how Motorola  went about designing this handset. Despite Apple's own thoughts on 4″ display thumb-reach, Motorola measured thousands of peoples' hands to fit this device to the average consumer.  With a slick and colorful polycarbonate shell, comfortably held arched-back, and 4.7″ screen, this device is gorgeous and the build quality solid. In fact, it's rather difficult to drop the Moto X. The arched back just sticks to the contours of your palm and stays there. There's also a small Motorola branded dimple on the back of the device, which is a perfect place  to invade with your middle finger while perusing Android 4.2.2 Jelly Bean.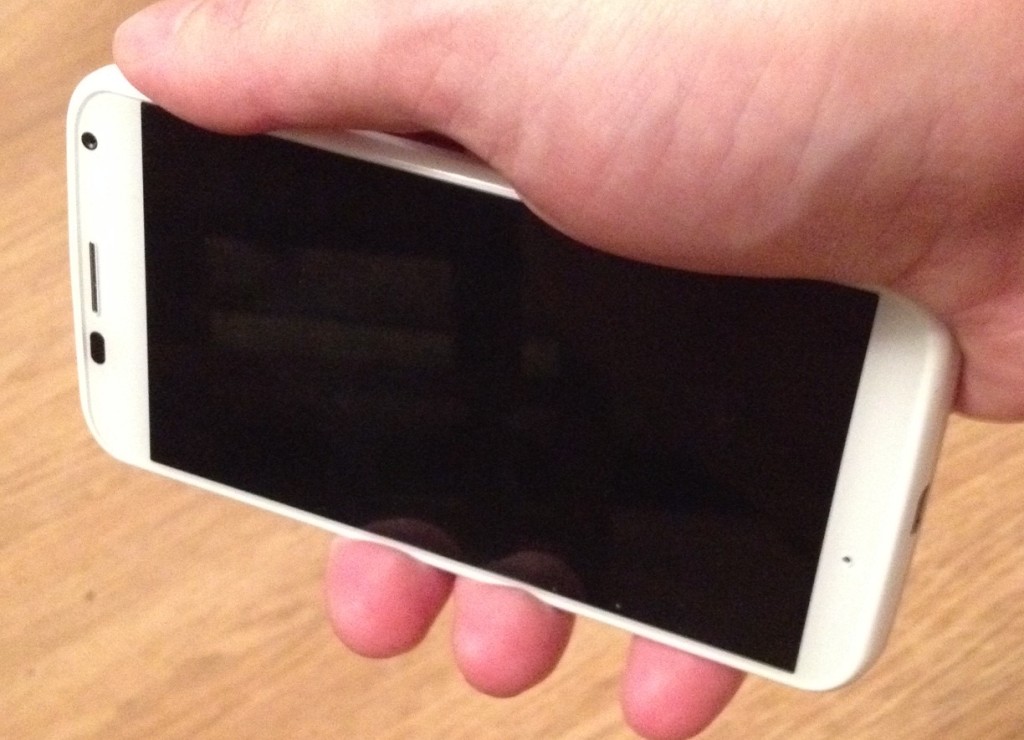 In addition to the nice 4.7″ display that doesn't completely dwarf your face or hands, Moto X has gorgeous aesthetics that can be colored to your liking in literally thousands of unique combinations of colors. This includes its buttons and front and back plates. Our review model was slightly pink with violet buttons, which would generally seem a tad out of place for me. Nevertheless, the soft, feminine colors grew on me quickly.  Standing out from the crowd of black Androids and white iPhones on the DC Metro every morning felt nice. It also looked a bit like a larger iPhone 5  or bright Nokia Lumia from afar. Of course, if you're not so lucky to be an AT&T customer, MotoMaker isn't available to you for some time. According to rumors, if you're on Big Red (Verizon) like myself, it won't be available to you until November 11 or so.
General Use and Software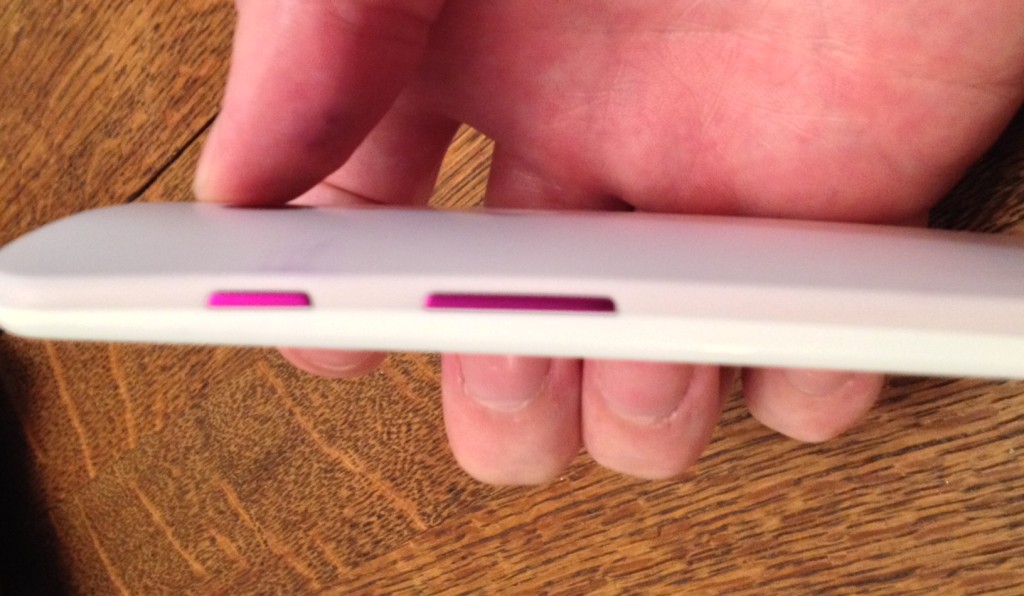 Usually we lead with specs at Tech Void, but there's something to be said for the fact user experience is the most exciting part of this smartphone. Sure, the 1.7GHz dual-core Snapdragon S4 processor is blazing, and the 4G on AT&T and Verizon are glorious. But besides that gorgeous display (which some tech heads may still claim to take issue with), the Moto X is simply bliss to use. It's quick, fast, effortless, and its included manufacturer-branded software tools have absolute utility in your daily life.
Active Notifications and Touchless Control are by far the greatest features of the Moto X. No more will you be smacking your power button thousands of times a day followed by swipe-unlocking your phone, just to see recent notifications. Motrola's Active Notifications silently blink icons for new messages, Hangouts, emails, and other push notifications on the display when you take Moto X from your pocket. Are you stuck in a meeting, but don't have the stealth to unlock and view that recent text or email? These notifications solves this problem completely, allowing you to quickly tap that blinking text, displaying the contents at the top or bottom of your screen. Also, did I mention you can open the camera by simply shaking Moto X twice? You'll never miss that Mardis Gras  or bad Karaoke moment again.
As for the Touchless Control feature, the Motorola software is paired with Google Now and offers amazing voice control features that aren't so gimmicky. I spoke to my smartphone constantly during this trial period. My roommates would constantly hear me shouting "Okay Google…" in an effort to set calendars, send texts, download applications, and check the score of the Redskins' game. We all know how  forgetting to set your bedtime alarm can be hell on earth. Thankfully, getting out of bed, turning on the light, and finding your phone in the dark will never be an issue again. The Moto X can be spoken to and directed to set the alarm for you without so much as a rollover. Of course, the real reason you won't be sleeping is you simply can't stop playing with the damn thing. Stupid Reddit.
Typing on this is a breeze with Swype already included, and sending multiple texts takes mere seconds. Never has texting seemed more like IRC during a review of a phone for me. So much so, in fact, I was actually confused whether I was using Google Hangouts (Google Talk) or texting.
The AMOLED display is gorgeous and vibrant, but using battery saver is recommended for stretching out that last 15% of battery life, which was never really a problem. Even with heavy tasking of downloads, game playing, and camera shots, the Moto lasted a full day and several hours more with my trigger happy thumbs on Deer Hunter 2014.  However, since the battery is not replaceable, keeping a charger handy at work or on the go is never a bad idea, but it's certainly was never a worry as the Moto X frequently went over 12 hours with light use.
Camera
This is by far the most controversial part of the Moto X. The stock software for the Moto X's 10 megapixel camera is absolutely disappointing. When I first started taking photos with the review unit, they were full of noise, washed out, and only a few would be sharp or even have reasonable color reproduction. Enter Moto X's first OTA update on AT&T, and it was like night and day. Camera shots became stunning, selfies clear and less washed out, and everything was just better. It's almost as if the Moto X needed to see an eye doctor, and we thank the smartphone Gods that it did. Unfortunately, the roll out of this OTA update to different carriers has been slow and inconsistent. T-Mobile, AT&T, Sprint and US Cellular have all either updated or commented on future updates, while users at Verizon continue to wait as they take lackluster photos of their lattes and in-progress Halloween costumes. Soak tests of the update have been sent out for Motorola beta testers on Verizon, however; so cross your fingers for a speedy  offering.
[slideshow_deploy id='3139′]
Aside from these quality issues early-on, I had a blast taking photos with this on AT&T post-OTA update. Tap to focus, HDR, and Slow Motion Video features included in the stock camera app are convenient and fun. It's also nice just tapping the screen to take a shot rather than pressing specific shutter location. You can see some of the shots I took in Washington DC above pre- and post-OTA update. In addition, you can find an amazing slow motion vid we took at Columbia Heights Day below. HDR photos take three at a time to get the best lighting and color, and it generally worked wonders, but the front-facing cam  (2 megapixel) was better taken without as the difference is simply off-base. You can also Geotag all your photos if you want that real creepy Big Brother treatment from Google. Overall, the camera is great to use. Swiping right brings the settings in a wheel format, swiping up and down zooms, and it's by far the most intuitive camera software I've ever used.
Wrap-Up
I bought this phone after using this for two weeks and for full price. I couldn't get enough of the device, and it was simply the most bliss I've ever encountered while using a smartphone. We've mocked Apple's  point of user experience over specs before, but there is a dawn of light coming through after this review. Everything on the Moto X is effortless and enjoyable. Even the build quality is nice. In addition, the Moto X isn't a monster phablet, and its 4.7″ display is just enough more screen real estate than the iPhone to be more enjoyable to play games, read, and watch videos on. The camera that was disappointing at stock, is now spectacular in comparison, feasibly only to get better with continued software updates. Also, Touchless Control and Active Notification features are some of the most exciting new software developments to see on a phone, and it's great to see a manufacturer offer software on a phone with actual utility and not just gimmick bloat. As for negatives, the Moto Maker and the OTA update are not currently available on all carriers, and that's a disappointment especially if you're going to drop $600 on the device out of contract with a currently sub-par camera. But that's not an technically an issue with the phone, so there's hope. Storage options could also be higher, but we'll be saying that until the cows come home regarding any handheld device.
You can pick up your own customized Moto X on Motomaker  via AT&T (ships in a few weeks).  All other carriers offer basic black and woven white models. It goes for $199.99 (16 GB model) or $249.99 (32 GB) with a new contract, otherwise it's $600-650. Verizon is now offering the Developer Edition for $650 on contract.
Updates: Pricing on the Moto X as stated above has changed dramatically for both versions. For February 2014 $329.99  is all it will cost you for a 16 GB model off contract. Motorola is also doing $100 off deals lately, adding features such as a wood backing. Stay tuned as this phone swarms your local metropolis.
9.5/10