Android phone "families" are synonymous with overkill this year when you consider the lineup of Nokias, Verizon Droids, and, of course, the HTC One lineup. But the One Mini, the miniaturized version of the HTC One, is not a cheap feeling or superfluous device. It fits perfectly in you hand (something less prominent these days) and its specs aren't watered down. The HTC One Mini on AT&T redesign keeps its smooth aluminum shell, speedy zip, while also being functional. Below is our full HTC One Mini review.

Design
So let's talk about design. Or is it redesign? The One Mini keeps that gorgeous, high-end aluminum shell but also adds a white, plastic rim around the device giving it a different accent than its larger HTC One counterpart. That's not to say it feels any cheaper or less sturdy a device. The phone keeps literally the same shape, and it arcs in your hand perfectly for a nice, average-sized hand fit. The problem? It's the exact same issue the original HTC One has: It's just too damn slippery. As comfortable as the device is in hand  (light too), I couldn't help this constant fear of it slipping out of my hand and cracking it on the concrete.  And for a device this attractive, a case would be blasphemy. The other problem was the heat. Aluminum is expected to transfer temperatures quite well and the hardware and burning hot battery inside can honestly make your palms sweat. Sometimes I wondered if I'd been holding a laptop's heat vent on my palm it was so warm. Slips and sweaty palms aside, the phone will catch eyes of those passerby, and it's one of the most attractive Android handsets ever created (like the One was).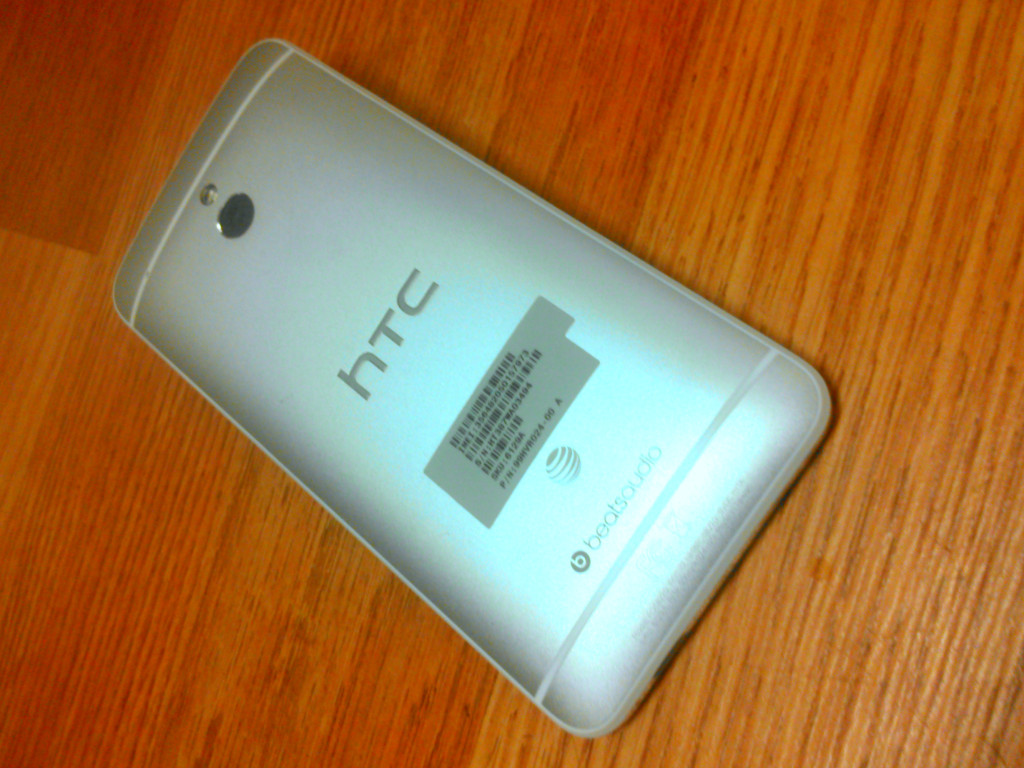 Display
The One Mini has a 4.3″  341 ppi 720p HD display, and it's vibrant as can be. You might think that 1080p on the original One makes this sub-par in comparison, but you'd be surprised. Playing games and taking photos with the device is a pleasure, and text is perfectly easy to read. Colors are vibrant and reproduced beautifully. Unfortunately, the gloss of the brushed aluminum paired with the glass of this device make it literally impossible to read in sunlight. In our past reviews we've never seen one that was this useless in the direct sun without changing settings. At times, we couldn't tell if it was on at all. Problems like this can be adjusted in default brightness settings, of course, but it's a definite problem for anyone intending to take photographs or text outdoors during the daytime. So…everyone. Nevertheless, the quality of HTC's LCD display is nothing to scoff at.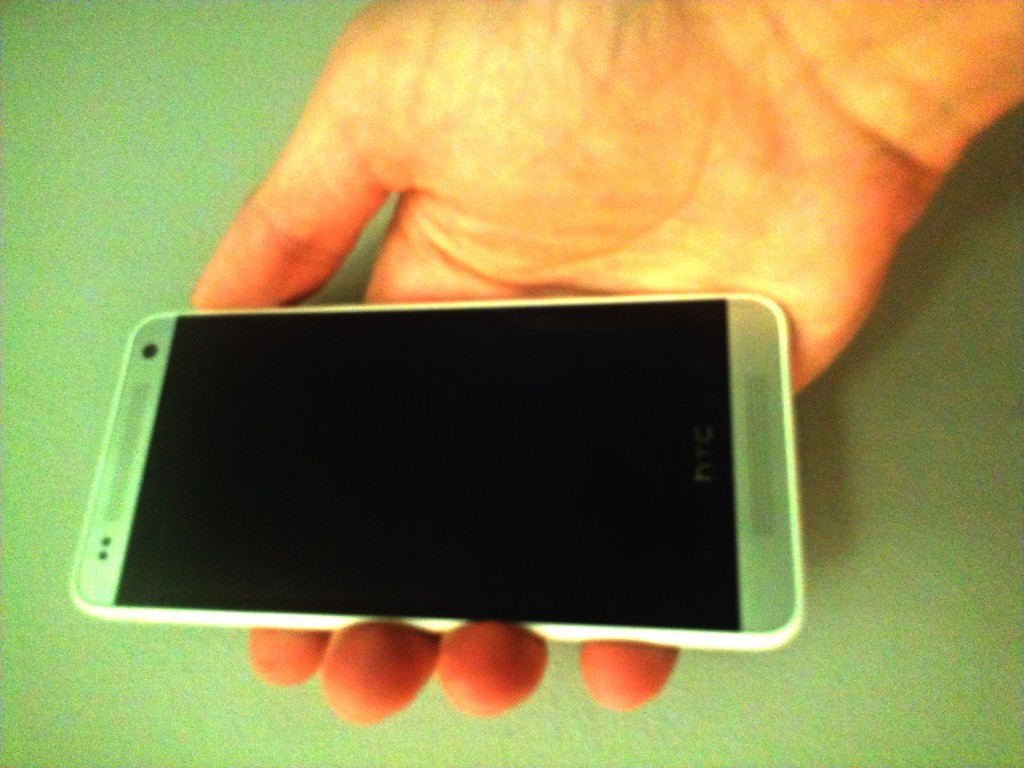 Software
The One Mini comes with a host of standard carrier and manufacturer bloatware including HTC's Sense overlay, and its own news app, BlinkFeed. BlinkFeed sets up as soon as you start up your phone, guiding you to select  favorite news categories and sources of content. Unfortunately, it makes itself your home screen. This is also fixable thankfully, because unless you're really pining for news every time you unlock your screen, swiping to your contacts and relevant apps will grow tiresome quickly. For those of us already dedicated to Flipboard and other news aggregation apps, you're likely going to want to cut it out completely. 
But the real software story is HTC's Sense overlay on Android, which leaves something to be desired. Sense's notification and settings menus  tweaks are minor, but scrolling through your app drawer, which is reorganized into a frustrating flipbook manner, is completely obnoxious.  The OS is full of slight changes and anti-fluid irks that kept me from completely loving use of the device. HTC's bother to customize this OS is lost on us when Google's original has always been perfectly fine, but it's something we've grown used to over the years with HTC Devices.
Beats is also included, adding bass and nothing else to those stereo speakers you'll read about next. Zoe mode is another HTC software addition to the camera. It has fun features that are confusing to use and absolutely needless. While removing photobombs, taking burst shots and forming animations from them are innovative, Zoe mode's use in real life situations just seems unlikely. But who can blame HTC when Nokia started the over-the-top camera features war in the first place? Let's not forget LG's Beautify mode.
With the One Mini, we were just happy we could implement Google Now, our favorite Android innovation which gives Siri a run for her money. Cards with commute times, football scores, and the weather are customized to your liking and simply waiting to inform you with updated information at any given time. Googling voice questions, setting alarms, and opening apps is a breeze, and it wholeheartedly makes you fall in love with your phone, or at least Google. Now if only HTC could build a Google version of the One lineup, so we could activate it from the home button.
[slideshow_deploy id='3075′]
Hardware
The One Mini's internals are high-caliber as any smartphone these days with a 1.4 GHz Qualcomm Snapdragon 400, 16 GB of storage and 1 GB of memory. Of course, that storage is non-expandable, so anyone used to throwing extra apps, photographs, and music on a microSD will sadly be stuck at that capacity. Wi-fi, Bluetooth and 4G LTE capabilities are included, as well as the stereo headphone jack.
But the One and One Mini's biggest claim to fame is the HTC BoomSound stereo speakers on the top and bottom of the phone. Unfortunately for us, the sounds coming from our review model were more tinny than anything. Loud and boomy, yes, but the tin can effect from the aluminum encasing made the speakers simply awful for listening. This could have been one flawed model, but HTC BoomSound was not loved by Tech Void. In addition, the idea is really more of a gimmick than an necessity for smartphone users anyway. Yes, watching Netflix and YouTube is nice in stereo sound, but if you're doing it on a smartphone, how high are your expectations? To each their own, but the speakers were a negligible addition to the One Mini that could have been replaced with a bigger battery.
HTC had to make a discount on the battery size for the One Mini, but no one is exactly surprised either. Still, the 1800mAh  got the Mini through an average day of gaming, taking photographs, and listening to Pandora in the morning just fine. 10-12 hours never felt like a stretch, but lots of camera shooting definitely killed it faster than anticipated. Battery Saver mode is a nice feature and turning down the brightness might be advisable in general (save for when in sunlight).
Camera
The One Mini comes with a 1.6 720p capable front-facing camera as well as a rear 4 mp shooter dubbed the HTC UltraPixel Camera. Trumping the megapixel monsters, HTC debuted this on the original One, limiting photograph  megapixel numbers and focusing on the quality of the shots in question.
It's too bad, though, because the HTC UltraPixel Camera on the One Mini is absolutely "Meh." In essence,  only 1 out of 4 shots comes out well. When it shines, color reproduction and contrast is pretty decent, but nothing like the Nokia 1020, for instance.  The rest are washed out, lackluster, and incredibly inconsistent even between shots in the same setting.  This was really disappointing considering taking photographs with this handset is quite satisfying and easy, especially when putting on the touch to snap option. As you can see in our gallery, some of the photos turned out great, but others just didn't cut it in comparison to better smartphone cameras like the iPhone 5's. 1080p video can be shot with this camera and in our tests it turned out fairly well despite problems with casual shots.
HTC's front-facing camera was stupendous at picking up low-light selfies and use in Skype calls. Your hideous pores, wrinkles, and imperfections will definitely be emphasized, however; so playing with lighting settings is recommended. No one expects the world from a front-facing camera, but we were impressed at how bright photos with this came out, even if washed out or competely lackluster in colors and contrast.
 Overview
At the end of the day,  the HTC One Mini on AT&T is a smaller version of the HTC One with many of the same issues and benefits. It's a game changer in quality and is more friendly to the average-sized smartphone user. Nevertheless, it remains slippery, bogged down with unwanted or bloated HTC and AT&T software, and a camera that doesn't compete well with the best and brightest like Apple and Nokia. The heat from the aluminum was bit bothersome, the speakers tinny, and the perpetual fear of dropping this phone made it uncomfortable to carry. But these minor gripes aside, this is still a very well-built Android smartphone, and it's just as attractive, durable, and useful as its 5.3″ big brother. The One Mini is still a joy to use.  The touchscreen is butter-smooth, the display incredibly vibrant and easy on the eyes, and overall it's just brilliantly quick device. We'll just have to wait and see if it will come in different colors like the HTC One is now. You can find one yourself for $99 with a two year contract at AT&T in its only color: Glacial Silver.
Rating: 7/10