Remember that kid who had a Casio watch that could change the channel while you drooled with envy and imagined all the pranks you could pull? Years have passed since then and the tech world is on the cusp of another watch revolution: The Smartwatch Battle.  The usual suspects, Samsung and Apple, are all rumored to be developing a smartwatch that will work in conjunction with their upcoming line of phones.  But watch out for  Sony, Qualcomm, and surprisingly Nissan; all of which have thrown down the gauntlet in the smartwatch battle arena within the last week.
Samsung's entry to the smartwatch war is called the Samsung Galaxy Gear.  It sports a 1.63 inch AMOLED screen with a resolution of 320 x 320, a pair of speakers and a mic for video recording, and a 1.9 megapixel camera.  You can now take selfies without pulling out your phone.  As comes it is the age of pedometers, it includes a gyroscope and accelerometer to track workout progress.  With the limited real estate from the 1.63 inch screen, don't expect a home screen similar to ones found on your smartphone.  Samsung has opted to use swappable cards that you can swipe in order to get to various functions and apps similar to Windows Phone's user interface.  The Galaxy Gear does have one physical button, which as some may guess, serves as a home button.
A limited hands-on review by Engadget below indicates that the watch performed sluggishly when it came to launching apps and taking pictures.  It comes to no surprise that there are kinks and performance issues as is the case with many first generation gadgets.  The Samsung Galaxy Gear smartwatch is scheduled to be released on September 25th with a handful of colors targeting different lifestyles.
Thankfully there is a black one for those of us who prefer a more subdued device; other colors are aimed towards the chic crowd, such as Rose Gold and Mocha Gray.  Apps available on release will include RunKeeper, My FitnessPal and a pedometer.  Although the Samsung Galaxy Gear has an extensive feature set compared to the other phones coming out, it is relegated to work only with the Samsung Galaxy Note 3 at launch.  Bummer! Hopefully, Samsung's upcoming phones will be compatible and perhaps Samsung will update the software in order to be compatible with Samsung's current line-up.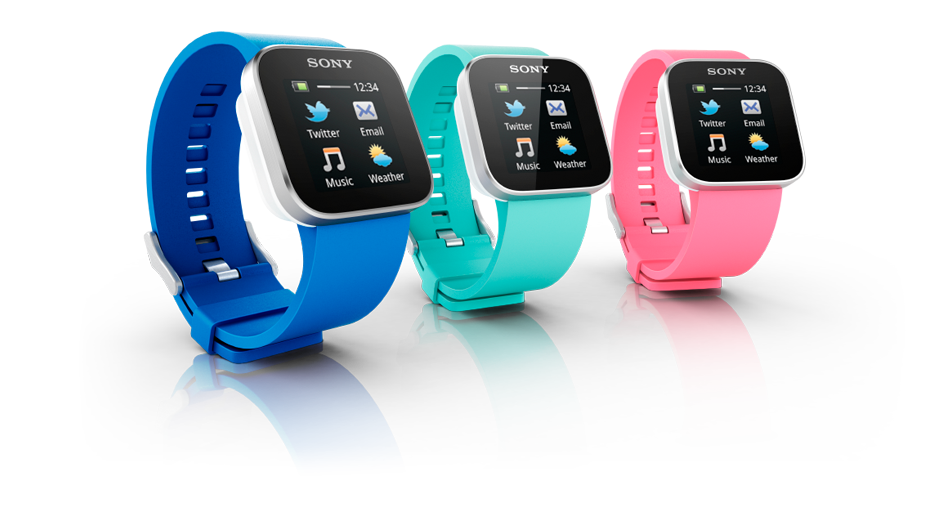 Next Up is Sony's contender, simply called Sony Smartwatch 2.  As the name suggest, this is not Sony's first foray into the smartwatch arena.  Its original Smartwatch was a beautiful piece of wrist gadgetry and it's second coming does not disappoint.  Like the Samsung Galaxy Gear, Sony's watch features a silcone strap, but so far no color options have been announced.  If the first watch is any indication, its likely that there will be multiple colors available.  Unlike the Sammy, Sony's Smartwatch 2 gives you the option to swap out bands so you won't be stuck with a bright green watch when you are in a board meeting.  Real estate is similar to Samsung's watch, at 1.65 inches tall and 1.61 inches wide according to CNET. Aside from the screen size, Sony's pixel count of 220×176 pales in comparison with Samsung's 320×320.  But at barely 2 inches, does it really make a difference?  Features remain similar to the first Sony watch, which includes basic features like notifications for social media, email, a weather app, and a phone dialer.  Other notable features include, an NFC chip, Bluetooth 3.0, 3-4 days of battery life, and compatibility with older android phones.  Sony does not have a speaker and mic on its phone so a bluetooth headset is a must, unless you want to pull out your phone.
Coming out of left field is Nissan's smartwatch entry.  In car entertainment, or infotainment is becoming more integrated into our mobile phones.  The Nissan Leaf for example already allows some limited interaction between the car and the user via mobile phone.  The Nissan Nismo smartwatch is an evolution of this interaction.  The smartwatch will allow users to monitor their vehicle dynamics and performance data.  It will even allow Nissan to send messages out to its owners.  This could be useful for recalls and maintenance schedules, as well as traffic and weather reports.  The Nismo watch's functions goes beyond measuring vehicle dynamics, it also has the ability to measure biometric data to determine fatigue, heart rate and brainwaves, therefore giving the driver a reminder when to rest.  And of course, in our social media obsessed society, it also has social media functions.  This is likely a poor idea with the ever increasing campaign against texting and driving.
Next up is the Qualcomm Toq.  Compared to the Samsung or even the Nissan smartwatch, the Toq's feature list seems lacking.  But what it lacks in features, it makes up in battery longevity.  The Toq uses Mirasol display technology, which is very good at conserving battery power.  Prospective buyers need not worry however, the screen is still capable of showing video, albeit at a lower resolution. The battery should last between 3-4 days according to Qualcomm.  Like with all smartwatches, the Toq is intended to be paired with a smartphone.  Once paired, it provides notifications and basic functions such as music control, stock quotes, and weather.  Another outstanding feature of the Toq is its ability to be wirelessly charged via Qualcomm's WiPower LE technology.  There does not appear to be any apps available, but if Qualcomm wants to to be somewhat competitive, it will likely add a few more features.  But Qualcomm is not looking into making its Toq a mainstream device, but rather as an experimental vehicle for Mirasol technology.

Perhaps, the biggest competition these smartwatches will face is the one from Apple.  However, the iWatch remains elusive and its specs and features are all but whispery rumors.  Possible features of the iWatch include, a curve gorilla glass, a heavy reliance on hands free functions, and a host of biometric sensors.  There is no official word from Apple about the existence of the iWatch, but industry speculators are expecting a 2013 or 2014 release.  Can Apple once gain change the game the way it did with the original iPhone or will it be left playing catch up?
Source: Tech Crunch
Via: Engadget Android Authority Tech Radar