You don't have to look much further than Jeff Bezos' recent purchase of venerable media titan The Washington Post to understand that technology is literally becoming interwoven within the District's DNA. A recent report put out by the Kansas City-based Kauffman Foundation and Engine, a policy coalition that represents the interests of startups, indicates that the rise of the technology industry in the DC metropolitan area should come as no surprise. In fact, the District and our surrounding area rank fifth nationwide among metropolitan areas in terms of the geographic density of information and communications technology (ICT) startups.
This finding reflects seriously on the potential that tech entrepreneurs see for growth of their businesses in the Washington region. Many likely recognize that in addition to ample investment interest from venture capitalists, it will not hurt to be close to the action when some of the most significant tech policy decisions of our generation are debated on Capitol Hill. DC has proven a fruitful birthplace for numerous tech startups (anyone remember Living Social?); among some of the most interesting that I keep my eye on:
Interestingly, the Kauffman/Engine report goes on to note that some mix of three general criteria typically hold true for the areas with the highest density of technology startups:  1) historically a vibrant technology hub with a highly skilled local workforce; 2) a strong aerospace & defense industry within the region; and 3) a concentrated university presence. These factors are logical, and needless to say, the DC metropolitan area has no shortage of aerospace & defense enterprises or institutions of higher learning.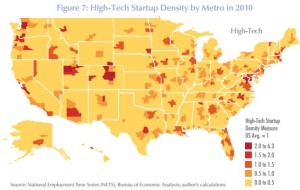 The data speaks for itself, but begs the question:  Will we see a sustained push among tech entrepreneurs to transform the DC metropolitan area into an even more economically fertile region for the industry? The signs point to 'yes.' Several tech startup incubators have sprung up in recent years to not only cultivate the growing potential of technology professionals in the area, but to also connect these creative minds with the financial backers who can help them scale their ideas into sustainable business models. Likewise, tech-oriented associations have also established more footing within the District to represent the interests of a range of technology professionals. Examples include the Application Developers Alliance and the Internet Association.
While DC's business ecosystem appears to be evolving toward an increasingly receptive environment for tech entrepreneurs, we have to also consider that not every startup will succeed. Business, after all, requires more than just a bright idea. But the findings of the Kauffman/Engine analysis point to a conclusion that holds promise for DC's economy should the growth of tech continue within our region. The report's authors find that while tech startups tend to operate within a "grow-or-perish" paradigm (those that succeed tend to grow rapidly in their early years, while those that falter fail fast), surviving tech startups produce more sustained jobs than their non-technology-oriented counterparts in the private sector.
The job growth benefit alone should make lawmakers and DC's business community (among many other stakeholders) much more attentive to business trends and policies that will come to affect the sustained presence of a vibrant technology industry in the District and beyond.
Via:  Ewing Marion Kauffman Foundation
Source: Georgetown.edu