We've finally had the chance to review the "Phablet" known as the LG Optimus G Pro on AT&T.  Its 5.5″ body fits in your pocket like a rocket ship, alerting any would-be Metro thief or first date with a Washingtonian socialite that you're compensating for something or other. Jokes aside, the enormous 400PPI, IPS screen is gorgeous, the AT&T and LG bloatware not totally egregious, and the 13-megapixel camera is generally quite impressive.
Design
This phone is pretty attractive with a slight aluminum rim around the edges and one main home button.  It's also incredibly flat and smooth in the hand. But we have to be blunt; this thing is not for the sleight of hand or faint of heart. If you have average or small hands, The LG Optimus G Pro is going to be a doozy device to handle (and name). Most typing is going to stretch your thumb to the max, and overall, it's simply a two-handed device like the Samsung Galaxy Note I and II. Really, about the only difference between this device and the Note is it doesn't come with a stylus, which would actually be handy.
[slideshow_deploy id='2627′]

Camera
13 megapixels is a great number, but what does it mean to you? It's the size, not the quality. In our tests, the camera was definitely up to snuff, but after reviewing Nokia's Lumia 1020, anything would be unimpressive.  Many of our shots turned out quite well, but colors can often be washed out, so taking multiple is a must. Otherwise, color reproduction is pretty good and vibrant (and amazing on this display),  but it's literally a crap shoot. Low-light conditions are pretty "Meh," but it's the camera features that really turned us on.
Our favorite LG camera tools are the "Beauty Shot" and "Cheese Shutter" options. In the world of continuous life documenting and Instagram selfies, airbrushing yourself can be a lot of fun, and that's exactly what the Beauty Shot allows you to do. It can comically flatten your features into oblivion, or slightly clear up blemishes and fix your face in hideous lighting scenarios. Of course, it's more novel than practical. The "Cheese Shutter," is a lot more fun for group photos. Scream "cheese, whiskey, kimchi, or LG" and it will promptly take a picture for you. Both of these features can be used for either front or rear cams.
1080p filming is a treat, as well as stable and vibrant. LG has added a great modern feature to take on YouTube/Tosh.0-culture, called "dual recording." When filming, the Optimus G Pro will take your reaction to what you're filming as you film it. A small box frame of the face cam can be moved to any part of the screen.
Display
This is one of the more gorgeous displays we encountered. Watching Netflix and other streaming video is lovely. Its absolutely bright and vibrant. Text is sharp and the viewing angles perfect. Our only consideration would be to dim it a bit for battery life. Playing games on this thing is enrapturing and was definitely distracting during my morning commute. I didn't miss my stop, but I did lose Temple Run 2 in a blind panic.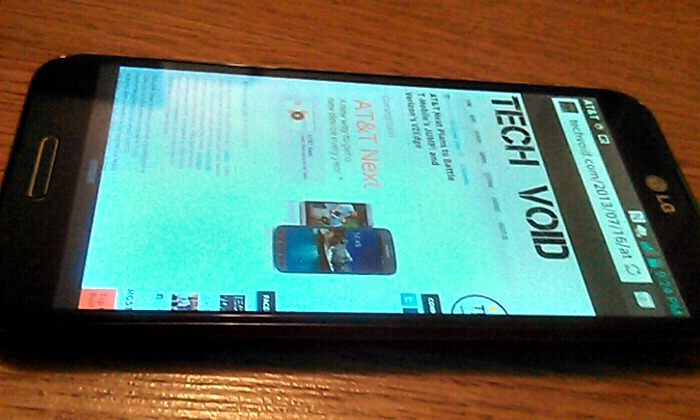 Software
LG did a lot of skinning on this phone, and it really kills the stock Android 4.1  Jellybean experience. The Q-Slide cube animation for swiping home pages gets old, and the notification shade is completely unnerving. Rather than a simple list of notifications, you're given three bars of settings followed by the notifications and another settings button. This is  completely overzealous when you're just looking for whats new. On the other hand, holding the home button will bring you right to your task manager which is nifty for a quick pick of the litter.
In the end, we were just happy that Google Now could be utilized, our favorite Not-so-Siri assistant. Setting this tool up to keep you apprised of weather, traffic, stock prices, Metro delays, and just your favorite news. It's not an innate experience like the HTC One, but it's still a great app to have on hand.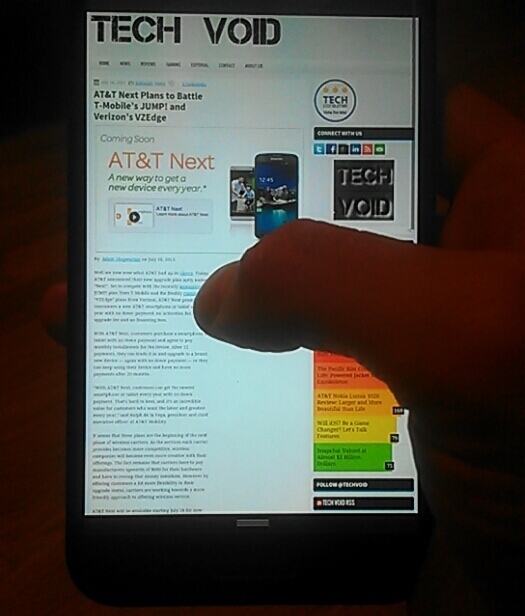 Hardware and Battery Life
The Optimus Pro G's 1.7GHz quad-core processor is incredibly speedy. Swiping pages is fluid, applications almost never crashed, and Netflix streaming and YouTube streamed quickly with AT&T's 4G LTE Network.
It also has a giant 3140mAh battery with 15 hours estimate talk time use and 24 hour standby. We never had any issues making it a full 8-12 hour day with it, and AT&T's network connection was always pretty decent, even between stops on DC Metro. Playing games and taking lots of media will, of course, suck its life faster, but in casual use standby lasted well into the next day without a hitch, making LG and AT&T's battery life claims quite valid.
Overall
This phone has a lot going for it. The 400 PPI display is incredible, but the size is a bit too much to handle. This thing is a beast and simply a pain to carry around (literally for some). Its slippery back is also a constant worry for drops. Hardware allows for speedy navigation, and Android 4.1 gives you access to the latest and greatest tools like our favorite assistant, Google Now. The 13-megapixel camera is amazing (sometimes), but inconsistent enough that you might prefer a Lumia or iPhone.  The LG software is a bonus and a drawback, adding useful features for things like the camera, while unfortunately taking away that beautiful stock Android experience in menus we covet. So, while there are other options, at $99 with a new contract at AT&T, you certainly could do worse for the price. In addition, you could also simply jailbreak it to your liking.
 Rating: 7/10