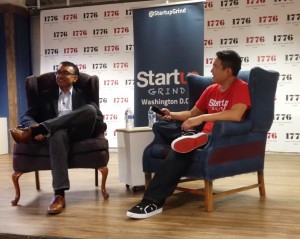 Last Wednesday, Startup Grind DC hosted a fireside chat with Sanju Bansal, co-founder of Virginia-based MicroStrategy, held at 1776 DC .
Led locally by director Brian Park, Startup Grind (@StartupGrind) is a global startup community "designed to educate, inspire, and connect entrepreneurs." They host monthly events in more than 40 cities and 20 countries featuring successful local founders, innovators, educators and investors who share personal stories and lessons learned on the road to building great companies. These events are a great way for tech enthusiasts to network with each other and learn from titans in the tech industry.
This chat featured MicroStrategy, the leading provider of business intelligence, mobile software, and cloud-based services for some of the top Fortune 500 companies and technology companies in the world including Facebook, eBay, and Yahoo. MicroStrategy was one of the first companies to pioneer data-driven enterprises with Business Intelligence and now is enhancing Big Data capabilities with data scientists acquired from top-tier ivy league schools and competitors in the tech industry.
During the talk, Mr. Bansal shared stories from his introduction to MicroStrategy CEO Michael Saylor at MIT to his life now as a COO, investor, philanthropist and style connoisseur. Bansal and Saylor started MicroStrategy in 1989 when Dupont, the chemical and paint company, provided Saylor with $250,000 to develop data mining and business intelligence software. The two "intrepreneurs" spun that business into MicroStrategy which reported $595 Million in annual revenues for 2012 and has 3,200 employees worldwide.
The conversation was inspiring, in part due to the venue 1776 DC. Just being in the space, brushing shoulders with young entrepreneurs and innovators generates a great deal of excitement. 1776, as many of you know, was built to accelerate tech start ups in Washington. If you haven't checked them out, you should definitely consider attending a fireside chats at 1776. The energy in the building is infatuating.