Earbud tangles are no more,  because Kordl 2 is here for crowdfunding on Kickstarter. Having déjà vu? That's because this is the second round of funding. We had a chance to play around with the original Kordl in its prototype days of Christiestreet crowdfunding last winter. Little did we know, J2 would be back with an updated model for a second round.
Kordl 2  is currently listed on Kickstarter with an already surpassed goal of $7,500 (Funding at press time was over $10,000). In case you missed the rundown, two engineers striving to find a solution to tangled earbuds in the morning have found the solution, and it's a tiny piece of plastic.  After some hefty R&D, a plastic tool with notches for cords was created and dubbed Kordl. The idea is simple; weave the headphone jack  end through one slot and connect the listening ends of the cord to plastic notches on the other side. That's it. You're ready to toss it in your pocket without a worry and pull it out again without a a single knot.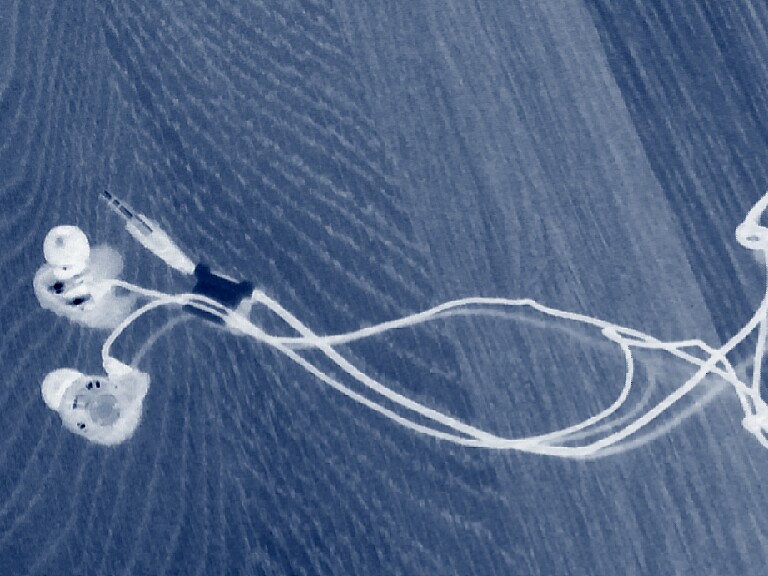 So how well does it work?
The protoype model we tried in February unfortunately arrived broken, so we were unable to test it. Also, being it was a prototype, it wasn't made of production plastic. Thankfully, J2 shipped us the updated 3D-printed plastic model of the Kordl 2, and it arrived in the mail just fine.
We tried Kordl 2 on various sets of headphones to test whether or not the wires fit in the notches. We also made sure to use the most doomed-to-tangle, stringy, rope-covered earbuds we could find. The buds above are so unmanageable the owner refused to even use them until they got a hold of this product.
We tried three different cords and found they all fit fine into the Kordl, however when using the slimmer, more delicate cords, pinching the ends grew worrisome in terms of damage. Nevertheless, the plastic holds, and the best part is the ability to keep the kordl sturdily attached to end of the cord when not in use. When connected, no matter how hard we scrambled the cords, as long as we pulled the the cord apart one end to the other, no tangles were in our way of heading out the front door.
Kordl 2 on Kickstarter! from J2 Product Development, LLC on Vimeo.
How it doesn't work
Don't get us wrong, the Kordl is great. It solves one of the most frustrating #firstworldproblems. That said, it's still a piece of plastic. If you have a pair of Sony or Phillips wraparound earbuds like some of our staff does, your cord is going to be thicker than the iPhone 5 buds advertised in use above. This is a problem, because in our tests this caused the Kordl 2 to SNAP into two pieces. Morning expletive$ aside, this left the unit essentially useless without tape. (Note:  J2 told us that the production model will be using stronger materials, as the review unit was 3D-printed).
In addition, your cheaper, thinner BlackBerry cords are going to be squished mercilessly and could cause cord damage in the future, stopping your tunes altogether.
Verdict
The Kordl is a great tool and a worthy cause for J2's R&D into human frustration. A donation to the Kickstarter project will get you two Kordl 2s for $10 (plus shipping). So if you manage to break one, you'll at least have a backup. At least at that point you'll have learned to be more delicate with your new-found tangle killer.  Otherwise, $5 will get you a single retail model, which still seems like a stretch for an item that weighs less than a penny.
But there's other options available. On an errand back from the dry cleaners, we realized there's already a piece of plastic that could solve this problem. A simple dry cleaner clip can do the same thing and only costs $3.95 a shirt (at least in NW DC). Food for thought, anyway.