Last week, the nation's fourth largest cellular provider announced a radical new model for wireless service pricing. T-Mobile customers now have the option of going "off-contract" (kind of) and take advantage of aggressive pricing that beats anything Verizon, AT&T and Sprint can offer.
All of the new "Simple Choice" plans begin with the unlimited voice and text messaging and pricing will vary depending on how much data you need. Erik has highlighted the new plans but just to recap, starting at $50/ month, you get 500MB of high-speed data with rates throttled to 2G speeds after you hit that limit. Heavier data users can add an additional 2GB of unthrottled data for an extra $10/month. 2GB of data not enough you say? For $70/month, you can get unlimited 4G data.  A second line will run another $30 on top of that, with each additional line costing $10 each.
Throttled data sucks and I am guessing rather than simply charge customers the extra $10 for 2GB of data, they want people to suffer long enough to upgrade their plan to the $70/month plan. But at the end of the day, either tier of pricing still offers customers a lot of value at an unbeatable price.
Not only is T-Mobile offering great pricing and flexibility in their rate plans, they are also spending a good chunk of the $3 billion they received from AT&T after their failed takeover merger on network enhancements and building out their LTE network. During its initial launch, T-Mobile will be lighting up LTE in seven markets including Baltimore, MD; Kansas City, KS; Houston, TX; Las Vegas, NV; Phoenix, AZ; San Jose, CA and our hometown of Washington D.C. Data speeds on this new network should range between 10 to 20Mbps down and 8 to 12 Mbps for uploads. The suite of devices that will be available on T-Mobile's LTE network include the HTC One, Samsung Galaxy S 4, Galaxy Note II, BlackBerry Z10 and iPhone 5. That's right. The last piece of huge news that came out of T-Mobile's UnCarrier event is that they finally sealed the deal with Apple to sell the iPhone.
Even better, the cost of owning an iPhone on T-Mobile is less than any other network. Here is a chart from Zagg that compares the cost of owning an iPhone on T-Mobile versus its main competitors of Verizon, AT&T and Sprint.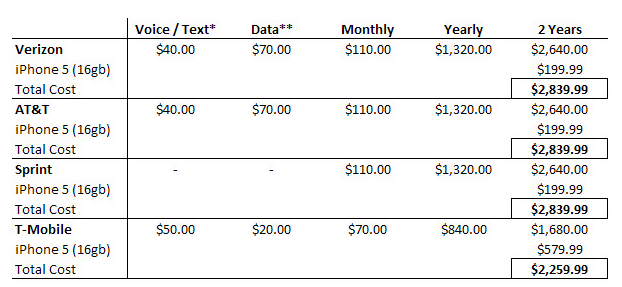 With all of this news from T-Mobile, it is clear they are making a huge push against its competition. They have seen too many customers leaving for cheaper options and these new Simple Choice plans are the perfect solution. Not only will T-Mobile see a higher retention of current customers, it is safe to assume that they will begin to grow their customer base at the expense of Verizon, AT&T and Sprint with a majority coming from the latter two carriers. An April Fool's joke this surely is not. T-Mobile is for real.