The New BlackBerry 10 OS is about to grace the world, and it could very will be the final sink for RIMM, if not simply its greatest mark ever. There's much speculation on what to expect, but all we can do is update as they tell us. Stay tuned for time-stamped updates and keep watching that stock ticker…
Update: The BlackBerry launch has come and gone with lots of news for folks who have been tracking the "Crackberry" comeback over the past year or so. All of the major blogs have weighed in on the new name, OS and devices and the reviews are mostly positive. While, Wall Street did not react the same way, many early reviews highlight competitive specs and a completely revamped OS. While we all need to wait to get a good hands-on with the device, let's take a look at the devices and the OS that powers them.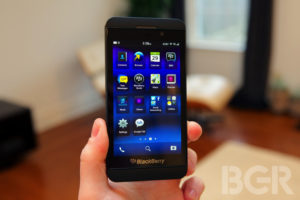 BlackBerry Z10
The BlackBerry Z10, built on the same chassis as the BlackBerry Dev Alphas that developers have been testing their apps with, is an all-touch device with a 4.2-inch screen with a resolution of 1280 x 768 pixels. The screen is said to be fair; not as good compared to the iPhone 5 or high end Android devices, but worthy of your average smartphone user. The phone is powered by the ever-popular, 1.5GHz dual-core Snapdragon S4 Plus processor and 2GB of RAM. In addition to 16GB of internal storage, the BlackBerry Z10 features removable memory (up to 32GB) and battery which will be appreciated by power users near and far. Battery life, however, is still yet to be determined. This will be an important factor when business users decide whether or not to switch (back) to BlackBerry. There is an 8mp rear shooter with a 2mp front camera capable of capturing 720p video. Bluetooth 4.0, NFC and WiFi radios are present, as is an LTE radio capable of connecting to AT&T, Verizon Wireless, T-Mobile and Sprint service. However, a favorite hardware feature is the all-to-familiar LED notification light. That infamous red light has ruined lives a many.
Check out the rest after the break.
Overall, the Z10 looks like a really nice device for consumers. The specs could be a little better of course. BlackBerry has a history of playing from behind in the hardware game, but as long as the OS is crisp and device feels like a premium device, and the average consumer is not going to care what's inside.
The Blackberry Z10 will be available in mid-March in black or white (Verizon exclusive). Verizon Wireless was the only carrier to provide pricing, which is currently set at $199 with a two-year contract.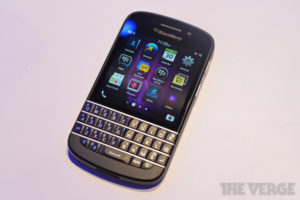 BlackBerry Q10
For power/business users or real estate agents who still rely on hardware keyboards, the Z10 might not satisfy your palette. But BlackBerry has you covered. The Q10 is basically a supercharged version of the last Bold series of BlackBerry smartphones.
There wasn't a whole lot of information about the Q10, but what we do know is that it shares almost all of the same specs as the Z10–A 1.5GHz dual-core processor, 2GB of RAM and 16GB of storage. The cameras are exactly the same. The only two differences are the smaller 3.1-inch AMOLED touchscreen with a lower resolution and of course, the hardware keyboard.
While we don't know what the price of the Q10 will be, BlackBerry has announced that this device will be available sometime in April.
Without actually using the device, we can't speak about the functionality of the keyboard, however it looks exactly like the standard Bold keyboard BlackBerry users know and love. We're a bit torn between using this device and the Z10 (without actually handling it). Obviously, for multimedia and web-browsing, the Z10 is going to dominate. But for the core of BlackBerry users, the Q10 might be everything they have been waiting for: An extremely powerful communication device with an OS capable of performing all of the software functions of 2013. Up to this point, the BlackBerry OS has kept its original profile and feel, causing each and every device to feel outdated out of the box. Speaking of software, let's take a look at the new OS that powers these devices.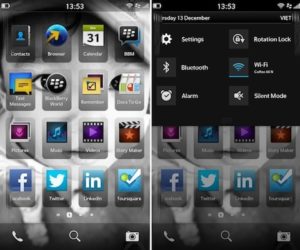 Blackberry 10
What is a high-end smartphone today without a an equally polished operating system? As stated previously, although the last line of BlackBerry smartphones were gorgeous, the dated operating system forced them to be DOA. This time around, BlackBerry teamed up with the makers of the QNX operating system to deliver a revolutionary experience for potential buyers. While this is the first time QNX has developed an operating system for smartphones, it seems like they have brought their wealth of experience in developing modern, user-friendly user interface to the BlackBerry platform.
Crackberry has posted an extremely thorough and in-depth look at the new BlackBerry 10 OS, so we encourage all of our readers to check that out.
BlackBerry Flow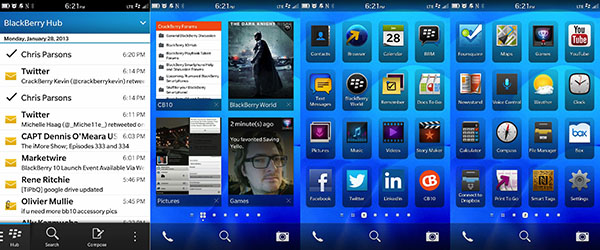 The new home screen experience in BlackBerry 10 is certainly a breath of fresh air from BlackBerry. It is not only a drastic change from anything they have done before, but completely different than anything else we have seen from any other manufacturer which is fairly hard to achieve these days. The home screen ties notifications (The Hub), an application switcher (Active Frames) and the standard list of apps all together with the Flow experience. Swiping back and forth through these different screens seems to be fairly smooth. Flow delivers a unique take on the smartphone home screen, hopefully in a way that is intuitive, rather than confusing to users.
Software Keyboard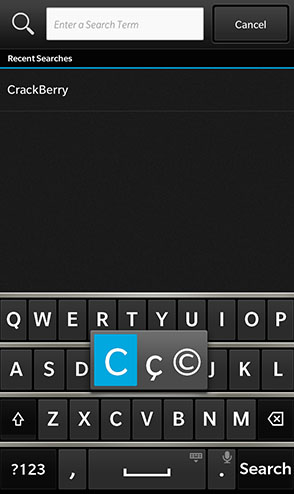 At Tech Void, we have a love/hate relationship with software keyboards. While they do make room for a better browsing experience and videos, they more often than not provide a frustrating typing experience; the reason they are there in the first place. BlackBerry's take on the software keyboard is certainly interesting, but time will tell as to how users' fingers will reap the benefits. The key selling point is the predictive text. Here is Crackberry's explanation:
Instead of showing suggested predicted words above the virtual keyboard as in previous touchscreen BlackBerry devices, suggested words float on those frets above the next letter in the word. To insert the word, you just swipe up from the key. For example, if you want to type "juxtaposition", you would tap "j", "u", and "x" as normal, but over the "t" key on the fret would be the whole word; if your finger makes contact on the "t" key and flicks upwards, the word "juxtaposition" would be inserted wherever you're typing. As flashy as that is, the best part is you don't have to type that long-ass word anymore. The keyboard might predict "juxtapose" instead, in which case you could still pick it, backspace, and get new prediction options (in this case over the "i" key). Over time, the user dictionary learns which words are used most frequently and in what order they're used to offer more accurate predictions.
This form of predictive text is clearly different than anything currently on the market and something that will definitely either be a make or break for BlackBerry users making the transition from a device with a hardware keyboard.
BlackBerry Balance
BlackBerry Balance is probably my favorite feature included in BlackBerry 10. Introduced on the Playbook tablet, Balance blends your corporate lifestyle with your personal lifestyle. BlackBerry has always had an extremely strong corporate user base and they are showing love to their business users with this creative blend of security and productivity. With the swipe of a finger, users can switch between a device full of Angry Birds and Pop music to a corporate accessible device that can even run enterprise apps developed by the organization. The IT department will only have access to the corporate side of your device, leaving your personal contacts, reminders and photos untouched. We would love to see this feature built out more as business users start using their device.
In Conclusion
We are very impressed with everything from today's announcement from BlackBerry. The pricing seems to be inline with all of the flagship smartphones currently available and while some say the specs are disappointing, but BlackBerry can get away with the current hardware as long as the OS is smooth and glitch-free. The future of the entire organization rests upon the success of these and future BlackBerry 10 devices so the software and services are probably more valuable to BlackBerry in the long run. Rumors of a buyout are still swirling and the stock price has been extremely volatile in recent weeks, but come March/April, we should have a clearer picture of BlackBerry's future in the mobile market.
Until then, there are only a few short weeks to the release of the Z10 and we suggest anyone contemplating a smartphone purchase who is unsure of which device to choose, to wait and see if the new BlackBerry is for you.