Update:  Earlier we noted that all profile photos have been pixeled-out to black on OKCupid. In fact, this is not a mistake, but rather an annoying ploy by OKCupid to promote the addition of the Crazy Blind Date feature.
—
OKCupid, the popular, annoying, creepy and lustful dating website and smartphone application just got a little more sexy today with the launch of their "Crazy Blind Date" service.  According to the email sent Tuesday morning:
"Crazy Blind Date is the easiest and fastest way to go on dates. You just tell us when and where you'd like to go, and we set you up. With just a few taps, you could have dates every night of the week."
Being Washington D.C. is one of the most eligible singles towns in the United States (14th on Sperling's list), the addition definitely puts up some competition to other services like Match, POF (Plenty of Fish), and Howaboutwe.
The new feature is live on the website and supposedly the smartphone application, although at press time when clicking "find a date," the tool crashed and local profile photos in the Android application simply disappeared to many users' dismay. From what we did see, it appears you can select a date on a calendar via Crazy Blind Date and type in a location of your choosing to set up your blind date.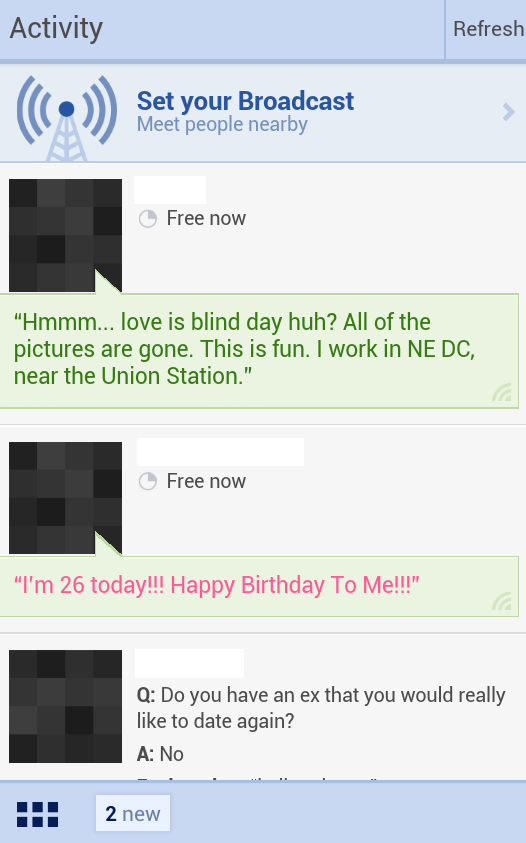 Currently many applications allow you to find "local" or "mobile" users in the area and ask if they'd like to meet you. OKCupid, especially, allows you to set "broadcasts" and suggest places to meet or things to do at specific times. Those interested can quite literally stalk you (if you included your location), or simply message you to meet up.
We can't say we highly recommend meeting strangers in strange places, but if a blind date is on your bucket list, this could be your shot. Just don't forget to bring your pepper spray and be ready to go dutch. Happy fishing. Or is it archery?
Source: OKCupid