"Is that the Holy Bible in your pants or are you just happy to see me?"
"Are you still playing the Game Boy®?"
"Have you quit your career to become a traveling book salesman?" 
These are all questions that you receive while storing the LG Intuition in your pants pocket. That is, if you can fit it in your pants pocket.  The Intuition is a clear response to the Galaxy Note by Samsung (Read my thoughts on the Note here). Bigger than a smartphone but smaller than a tablet, these devices are known by many as a "phablet". While strikingly unoriginal, there really isn't a more suitable classification for a device such as this. It is a hybrid of sorts. An alien.
The problem with these devices is that they are just too big for a smartphone and too small to be a tablet. I am not sure if a smartphone could ever replace a tablet and vice versa.
With that said, let's dive a little deeper in to the madness that is: the LG Intuition.
Hardware/Design
The device is a square. No, not a "loser" or a "pinhead". Literally, a square. Well, almost. Measuring in at 5.50″ (H) x 3.56″ (W), with a 5″ XGA IPS display and a "roomy" 4:3 aspect ration, the Intuition feels like you are reading a book. This being the intended purpose, people that read  a lot of books will like it and people that like to use their smartphone to make calls will not. Of course, if you like to read a book with one hand, then this isn't the device for you either. The display is clear, however I am not sold that you actually see more on a device this big. Sure, I have a larger dialer and keyboard (which lagged often when typing quickly), but I still had to scroll around my GMail (in part due to the capability of the built-in GMail app) and still had the same number of icons and widgets that I have on a Galaxy S III. In the example below, you can see that I actually can view more content on the GSIII than on the Intuition.
I hope you are just as shocked as I am to realize that size isn't everything in this case. What is the point of having a 5″ display if you aren't making the use of the space?
The Intuition does come with a stylus dubbed "Rubberdiem", or "Rubber of the Day" in Latin; however, unlike the Galaxy Note, there is no place on the device to store the stylus. In my mind, that is a drastic oversight that really kills the stylus feature for me altogether. You are telling me I have to lug this thing around in my pocket all day and I still have to find a home for the pen I am never going to use? No thanks.
There is a dedicated button to take screenshots and from there, you can jot a note down with the pen if you feel so inclined.
By not saving room for the stylus, LG was able to pack a 1.5 GHz dual-core Snapdragon S3 MSM8660 processor, 32GB of internal storage and NFC (LG Tag+ support is included). You will also get an 8mp camera with LED flash that takes decent photos. Here is a photo from a Nationals game.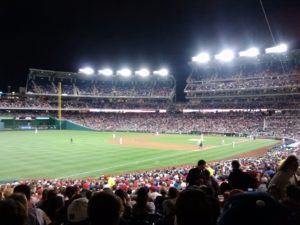 One thing I really disliked about the Intuition is that the in-call volume was very low. While outside, I could barely hear callers no matter what I did to remedy the situation. It seems more and more these days that manufacturers are forgetting that these are supposed to be phones first and everything else second, third and fourth. That is what I love about BlackBerries. They are always a communication device first. Whether you are punching out emails on the keyboard or calling with crystal clear clarity, BlackBerry always dominated in that regard.
Software/Performance
The Intuition comes preloaded with LG's custom version of Android 4.0.4 Ice Cream Sandwich (ICS). While heavily customized, ICS still shines through as the OS flies on the Intuition. You can swiftly breeze through menus and multi-task with the best of them. ICS is the first version of Android that really feels "complete" and I can only imagine what Jelly Bean improvements will bring to this device.
The catch here is that some most of the apps for Android were never meant for this obscure resolution and as a result, appear stretched on the massive screen. So, LG had to incorporate a way to make those apps useable. By a long press of the home screen, the aspect ration of an app will be restored to its original state with black bars on either side. Not nearly an optimal situation and another example of why size isn't everything.
Verizon bloatware is all too familiar, but thanks to ICS, disabling (not removing) these apps that come preloaded on every Verizon device (VZ Navigator, Verizon Tones, Etc.) is becoming a ritual. Otherwise, LG includes a file manager, a file sharing app, LG Tag+ for NFC, the Notebook app and  SmartShare for DNLA.
Verizon LTE is always consistently fast in my area, usually ranging from 10-15Mbps. Results on the Intuition were in-line with every other LTE device I have used on Verizon's network so not much to report there.
Final Thoughts
I had a very mixed experience with the LG Intuition. At first, I really liked the extra real estate to type messages or watch videos, but after I realized the ramifications of opting for the 4:3 aspect ratio, I was really disappointed. I really  like being able to use a smartphone with one hand and that is simply not possible on this device. Besides, getting a lot of interesting feedback about how big the device was, nobody I showed the device to was really excited about using this device on a regular basis. We want something that is portable and functional and the Intuition falls short on both. The "phablet" market is definitely gaining ground in the wireless market. With devices such as the recently announced Galaxy Note II and rumored HTC DROID Incredible X, I am just not sure if the Intuition is good enough to compete.
You can purchase the LG Intuition for $299 on a two-year contract from Verizon Wireless.