Amazon's Kindle event went off today unveiling not just three new Kindle black and white e-readers, but several brand new Kindle Fires. And guess what? The update to the Kindle Fire SD (Standard Definition) costs only $159. Not bad at all, especially if you consider the deep discount (from $199 original Kindle Fire) and upgraded hardware including a new processor and twice as much RAM. It also has better battery life and 40% improved performance.
So what about the Kindle Fire HD? First off, it's plural. Kindle HD Fires. Read it. Count it. THREE of 'em.  An 8.8 mm, 20 oz, 8.9″ display, 254ppi on Kindle Fire HD and a 7″ model. Crazy, we know. Amazon just took a step in the tablet dimension middle ground, beating Apple to the punch so rumored.
The new Kindle Fires hype better resolution (8.9″ is 1920×1200), two antennas to cut down interference via MIMO, dual-band with 2.4 and 5GHz frequencies (that's a step above the Google Nexus, iPad, and other tablets), dual stereo Dolby sound (that's two speakers; the iPad has one), and a processor Bezos says is better than the Tegra. Oh, and the Wi-Fi is 41% faster than iPad. In addition, both models have HDMI-out, Bluetooth capabilities, and HD front-facing cams for Skype.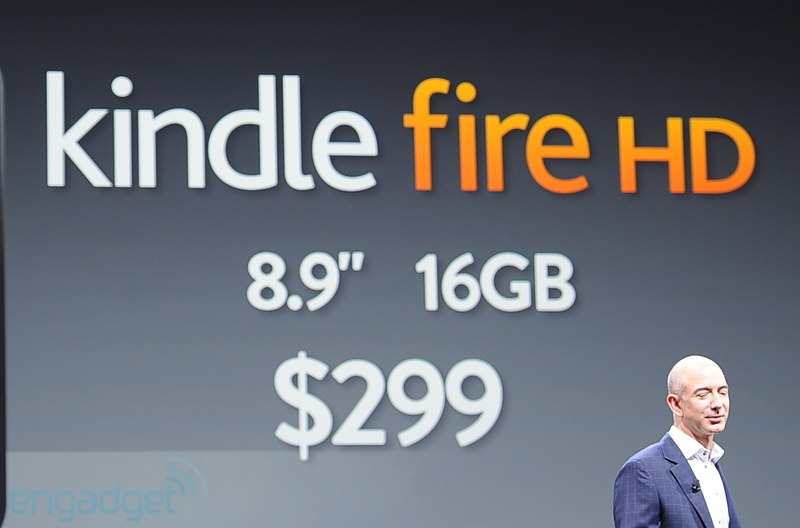 The 7-inch goes for $199 with 16 GB of storage or $249 for 32GB, and the 8.9 inch Fird HD with 16GB goes for $299 with 16GB and $369 for 32GB. Oh, and you thought that was it?
Amazon almost forgot, there's a Kindle Fire HD 4G LTE available as well. It's $499 at 8.9″, 32GB of storage or $599 for 64GB, shipping November 20. The 4G plan goes for $50 (once a year) for 250MB of data monthly, 20GB cloud storage and a $10 applications credit.
Via: Engadget
Source: Amazon